NJ SCALE Racing is currently planning a big race event this Fall: an East Coast BRM Challenge/Scaleauto Championship race. Date: Saturday September 21. Location: The Race Place, Rt 33, Farmingdale, NJ on The Red Lightning track. , same location as the 2012 National Finals. This will be a 1 day race event: BRM and Scaleauto Sprint races and a Team Enduro race. The race fees will include food (pizza) and prizes for all racers.
Details to follow as we get closer to the race date. Right now we need to hear from clubs and racers from around the Tri-State area and beyond that would like to make this race event. We are planning to make this an annual race event, one big enough and special enough to make the trip to New Jersey. The more racers involved, the more fun and competition guaranteed.
So let's make this the once a year event to bring all of the SCALE racers together and see who wants the Championship trophy
***RACE UPDATES****** stay tuned to this first post as I will be continually updating the details you need to know to be ready for this race event**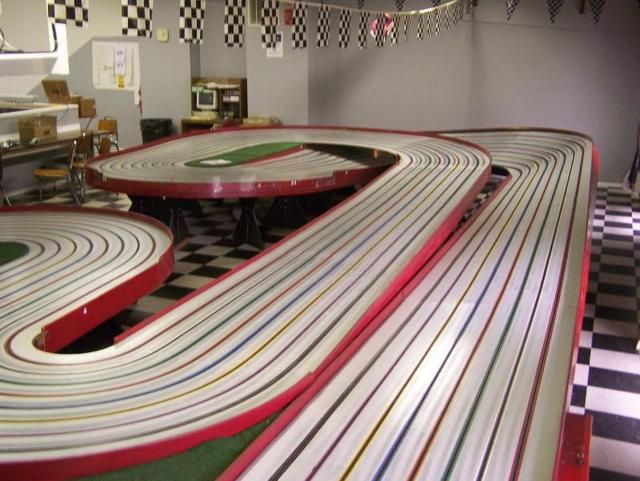 - this race wil take place on Saturday September 21. The Race Place will open at 8am that day, open track practice time will be from 8am until 11:30am. Car tech will be open between 9am to 11:30am sharp! Any cars not submitted to tech by 11am will not be able to race (see exceptions below). Once all cars are done going through tech, we should be able to start racing by 12:00pm.
**tech time exceptions: if you will be racing the same car(s) in both the Sprint and Enduro races, and you need to work on the car(s) before the Enduro race starts, you may work on them between races in the tech area. Then your car(s) will pass through tech a second time. And if you can only make the Enduro race in the afternoon, don't worry- we will allow time to tech your cars. We are making every effort to get all cars through tech without delaying the start of the first race, while allowing all racers to participate, no matter what time they arrive.
- 2 Sprint races: BRM Group-C and Scaleauto, 5 minute heats, followed by a 2 man team Enduro race (10 minute heats). Enduro race will be 4 lanes of BRM racing, and 4 lanes of Scaleauto racing. All races: 1 driver, 1 car, no back up cars allowed.
-marshaling: if you race, then you must marshall. 8 lanes of racing, must marshall 8 times, and locations will rotate around the track.
- there will be a lunch break between races.
- rules for car tech will be based on the official BRM Challenge and Scaleauto rules found in these forums. Minor exceptions to those rules as noted here.
- costs to race: $10 pit pass, $30 for first Sprint race, or $40 for both Sprint races, or $50 for both Sprint races and the team Enduro race. What to expect for your race fees: pit pass for open track practice, the races, pizza for lunch (add $5 for pizza costs), and everyone racing will get a prize!! There will be several sponsers giving parts so that every racer will get something, as well as trophies and special prizes for podium finishers. Special prize to the racer that drives the furthest to NJ.
- this annual race event is being designed especially for racers outside of the New Jersey area, in order to make it worth your time and effort to come down to NJ for a big race event once a year.
- expect to have FUN, and have a very competitive racing day. We expect to have the best SCALE racers from the tri-state NJ area (NJ, Pa, NY, Md, De) and beyond! Wanna have bragging rights- then don't miss this race!!
- tech will include checking for allowed parts, car weight, motor rpm, ground clearance, tire width.
Tires may be cleaned with Scaleauto tire cleaners, sunscreen/lotion, hand lotion, lighter fluid. No glues allowed at all, on the track or the tires. Braid may be cleaned with braid cleaners. All repair work done on cars will be during the race (or between races) and at the tech pit stations. No repairs allowed at your pit box area. All of your repair tools and replacement parts must be at the tech pit stations and reviewed by tech personnel when your cars pass through tech. Once through tech, the cars, tools and replacement parts will be impounded.
BRM: red or pink can motors, 8/9/10 tooth pinion gears, 34-36 tooth crown gears (BRM, Sigma), BRM or lead weights inside chassis only. BRM or Scaleauto foam rubber rears, any of the 3 compounds. Any brand: screws, spacers, washers, braid, axles allowed. All other parts must be BRM. Lightening of body or chassis not allowed. Wings must be attached to cars at start of race. Min total weight per BRM Challenge specs. Any Group-C cars only (Toyotas, Porsches 962s).
Scaleauto: box stock, except for: any compound foam rubber rears, 3 motors allowed: SC-0025, Sc-0025b, SC-0026. No chassis weights allowed, no lightening of body or chassis, 12/44 gear ratio, any Scaleauto gears (compound: plastic, brass, steel,etc), hard comp foam fronts allowed. Any brand: axles, spacers, washers, braid. All other parts must be Scaleauto.
*** IMPORTANT: PLEASE READ!***
I am sure that you all will begin to have specific questions about rules and car tech. So continue to monitor this post for future updates, and know that your questions may be answered (hopefully!) before you post a question. The race committee is in continual dialog, and as details become finalized, I will update this first post. By doing it this way, a racer will not have to read through 50 posts to find an answer to a specific question. However, if you have a question that needs an answer, feel free to ask away.