here are the results of the June 21, 2014 NJ SCALE Racing BRM Porsche 917 race:
1) Martin Dixon.........145 laps......7.078223.......yellow lane...
**fastest lap time winner**
2) Glenn Orban.........142 laps......7.249553.......yellow lane...
3) Robert Holt...........142 laps......7.249831.......yellow lane...
4) Mike Burke............140 laps.....7.249368.......white lane
5) Arron Moore..........139 laps.....7.249968.......purple lane
6) Jim Regan.............138 laps.....7.249732.......purple lane
7) Mario Baskin (no-s).111 laps....7.628238.......blue lane
Lots to say about these new BRM Porsche 917s. This was our first official 917 race, and it was a blast! I raced a factory painted rtr car, and with the green 41t aluminum gear, the car on The Red Lightning track, which is a long track, was not to my liking. This gearing had the car reach full speed halfway down the main straight, and was jumpy. (On my shorter home Carrera track, this car with the 41t spur gear races perfect, and is quick.) But, when I switched to the 38t nylon gear (white), the car really woke up, then added some lead weights to the inside of the chassis, and I was racing a really great handling car now. We had 3 other cars that had gear failure, all with the blue 38t gear. All cars using the white 38t nylon spur gear had no gear failure issues.
Martin had the most weight in his car and it proved to be faster in the turns, but not faster in the straights, so he pulled away with a 3 lap first place finish. Now take a look at the 2nd-6th place finishers: we all had fastest lap times in the 7.249 range- now that is what I call evenly matched cars!!
And for our first Porsche 917 race, with many cars on the track for the first time, there was no real body damage or horrible crashes, just blue nylon gear failure. So we expect that as the motors break in, as we get used to racing this car, which handles much differently than the Group-C cars, and as we get better at tuning the chassis (lead weights, axle height adjustments) to see even lower lap times, possibly breaking into the 6's.
The other difference in these cars vs the Group-C cars- this gearing gives us some serious brakes!!
We also had initial track testing with 1 Toyota Group-C car with the new anglewinder chassis, and 1 new Sauber Mercedes. The Sauber-Mercedes is FAST! We did not record lap times, but that car seemed very quick and will be added to our Group-C class races. Now I need to get one for myself...
And Mario Baskin (not Baskins...
) gets a gold star for not giving up- his car, with one of the blue nylon spur gears, ended the race with less teeth on the gear than were missing- we don't know how he did it! I think his car finally died (or should I say the spur gear died) with approx. 1-1/2 minutes left in the final heat. His car sounded like a can opener at the end of the race
But seriously folks- everyone did really well for the first race with a totally new car. Out of the box, these new Porsche 917s are fantastic!!
Just add foam rubber rears, some lead weights to the chassis, adjust front wheel ride height as needed, gearing for your track (41t if a short course, 38t spur if a longer course), and you will be pleased.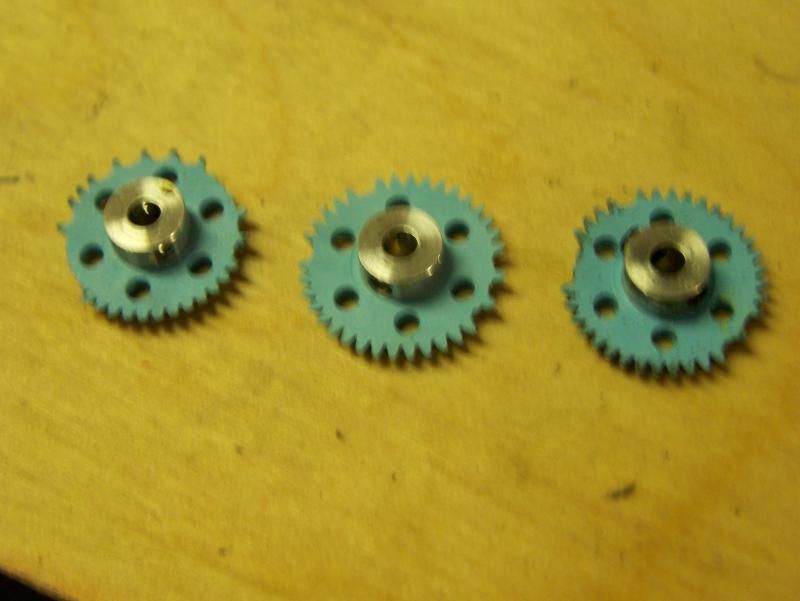 Well done BRM...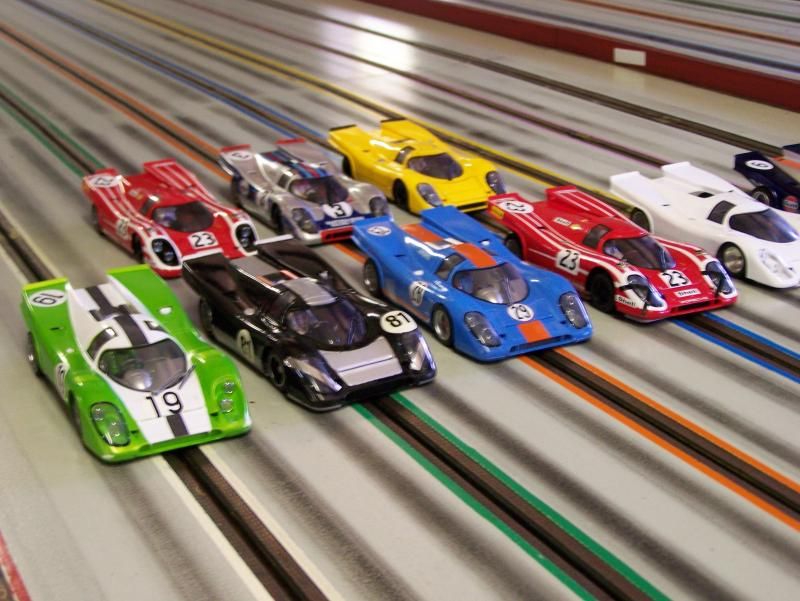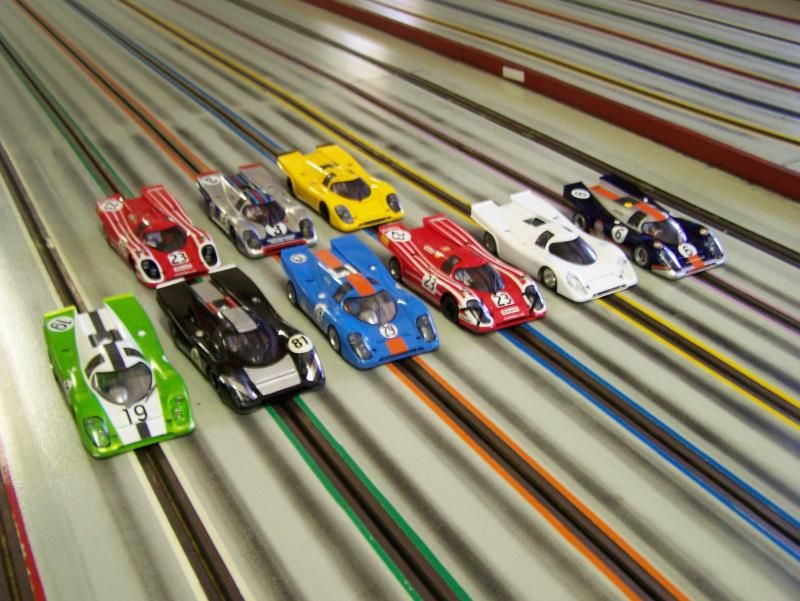 note there are 3 factory painted cars and the rest are custom painted white kits, all beauties