Hi guys
I just recently got into slotting and have become totally hooked! I'm a total newbie but have been experimenting and reading as much as I can these couple of weeks. It's at times frustrating coz there's lots of information out there that's quite conflicting! So to set me up on the right path, I hope to get some specific advice from the pros in this forum.
I have a 21m (about 69ft) Ninco track at home and race with some pals at the club which also runs a Ninco track of about the same length. I'm running with magnets for the time being and hope to move on to non-mag eventually. Here's a pic of my home layout: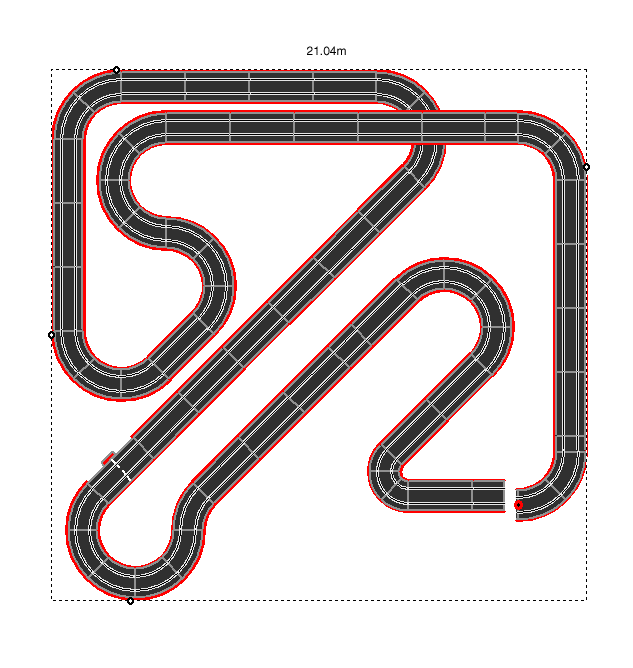 The cars that I'm tuning are Slot.it Sica10c Maclaren (Inline), NSR Moslers (sidewinder & anglewinder), Ninco Ferrari 360 prorace, Ninco Porsche 911GT3, Ninco Toyota Supra.
I've done most of the basic stuff which I've gathered over the net like tyre truing, chassis straightening, running gear alignment, screw loosening & weight & magnet tuning. However there are specific brand related idiosyncrasies that I just can't figure out what to do. Here it goes:
Ninco Track General Car Setup
1. Do we set up the car with tripod configuration or let all the wheels touch?
2. What are the better tyres for running on Ninco tracks? I'm using Ninco prorace, Slot.it S2, NSR ultragrips.
3. Body loose or tight?
4. Suggested gear ratios for my type of layout (fast & flowing) for anglewinder,inline & sidewinder?
4. Any other suggestions welcome!
Slot.it
1. The Slot.it Maclaren is fast! It handles the best on my track, seldom de-slots and corners like a rocket. My problem is that it occasionally causes the power to the track to shut down! What do I do to prevent this?
2. The Slot.it cars seem to be low especially since mine is an Evo chassis so there's constant rubbing with the tracks. Should I convert to non-offset motor pod to increase the height of the car? Add spacers to the guide? What do u guys do to your Slot.it cars to run on Ninco track to prevent this rubbing issue? Less friction=more speed no?
3. What are your additional setup tips for running your slot.it cars on Ninco track?
NSR
1.The Moslers are really fast and quiet! The sidewinder (25k shark) is more balanced and consequently faster car than the anglewinder (21.5k king). I've managed to solve the rubbing issue by installing some spacers on the guide post. Problem is that the front wheels are totally off the ground. Is this ok?
2. Any other setup suggestions from guys that run NSR moslers (with magnet) on Ninco track?
Ninco
1. The Ninco cars are pretty fast (not as fast as Slot.it & NSR) but I gotta have a Ninco car for Ninco races at the club. Can the Ferrari 360 (with NC6) be a competitive car? The club guys seem to favor the Acura LMP & Mosler. I don't want to waste my time modding and tuning a car that has got limited potential. Or should I change out the motor to maybe an NC10 or NC14 (the NC6 is really a bit too jerky & rough for my liking)? Should I perhaps look at other cars like the lambos (I don't wanna add another Acura or Mosler to the pack coz it's just boring!)?
Last but not least, the main mod will be for me to build up my driving skills!
Cheers guys and I hope to hear from you!