This is a post I created on SCX Worldwide that I thought I'd share here since more questions have come up regarding how a jumper can be made for the SCX Digital System.
__________________________________________________ _________________________________
Disclaimer: What you are about to read is not meant as a "how-to" post and thus I do not recommend anyone to perform this mod unless you feel absolutely comfortable w/ the concept of how it works. Any mistake made in how the wiring is applied will cause damage to the Control Unit / Pit Box which will in turn not be covered under the SCX two year warranty.
Hey everyone,
I thought I'd share some pics of my latest mod for my SCX Digital track. This is a power jumper wiring harness I've created to help transfer power to the furthest point of a layout to compensate for any power lags. I will be implementing this on my next layout which is going to about about 111 linear feet in length (so it will be mounted about 55 ft from the main terminal to hit the midpoint).
I have created two tracks (one for transferring the power and the other to receive). Let's check out the pics.
The Power Transfer Track (to be located near the terminal track)
The different colored wires you see soldered onto the connection points of the track represent the following:
Red = Track Rail (+)
Black = Track Rail (-)
Yellow = Powerline
If you notice, I'm also using what are called molex plugs as an interface for the actual wire jumper that would go between the tracks. I did this for the convenience of being able to unplug the jumper whenever I did not need it or to provide the flexibility of make varying length wire jumpers dependent on my track size.
Now here are some close up pics of my soldering job to the different jump points.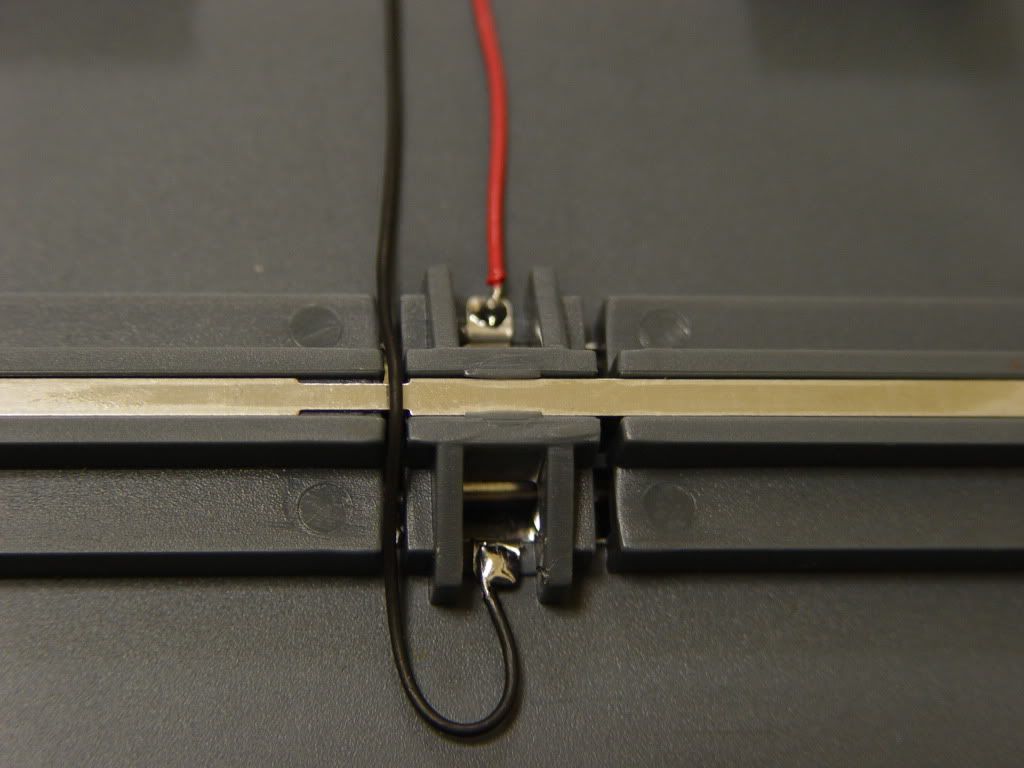 The Power Receiver Track (to be located @ the remote point)
This track is really no different than the first. However, what I did differently was to add two sets of molex plugs for the purpose of allowing the jumper wire to come out of either side of the track depending on what direction the track was facing. (Note that on both tracks I have a piece of yellow tape w/ an arrow. It is crucial that the tracks be facing the proper direction of travel when setting up any jumper assembly. By not doing so, it will damage the Pit Box or Control Unit.)
In addition, another benefit of the two sets of plugs would be to provide a "daisy chain" option one day if I wanted to route another jumper to a 2nd boost point. I doubt I would ever have the need to do so but it's prepped just in case.
Now here is a view of the Receiver Track from the side showing the "exposed" Powerline. (Note that this is an "older version" of an SCX Digital track section that was designed to have the Powerline run under the slot. The "newer version" now runs the Powerline "under" the outer power rail in the form of a shielded copper wire.)
And thus, if you notice closely in the pic above, the Powerline on the left has been insulated with what is called "liquid electrical tape". I perform this procedure on all my older SCX Digital track w/ the exposed Powerline as a safeguard against possible shorting. And of course, I had the right side insulated shortly after this pic was taken.
Now here is my final pic showing how the jumper wire looks like and connected between the two tracks.
The jumper utilizes an 18 gauge wire which I feel is adequate for this job (any thicker and I would not be able to crimp them to molex pins). I should note that the wires soldered under the track is a 'fairly thick" single stranded copper wire. I'm uncertain of the exact gauge but it is normally used as phone wire.
So that's really it. I have done some tests to see if it works properly and it certainly does deliver. The ultimate test, however, is when my next layout is built and then we'll see for sure how the system responds (I am expecting improved response and more even power).
If anyone has questions about it (because I never meant this as a "how to" post), feel free to reply and I'll do my best to fill in any information I left out.
Later,
Dave