I sure have a cool wife! For my birthday she bought me all sorts of sweet bling for my snow machine (mobile for all you folks in the lower 48). Most of my friends get ties and chore related gifts. NO soft packages or hidden agendas from my gal. Now to top it for Christmas, I find a Super International under the tree for my Christmas AND 6 cars!
We built a 4x8 table in the shop and covered it with putting green, put up borders and all! Christmas Eve it was 4 four of us in the shop racing 4 lane fun. Alas, it got really cold here and we had to abandon shop! At -20F and colder it was just too much for the heater to overcome. So, the track came in and the it took over the bedroom. We had a 8x3 fold up table, tossed on the tablecloth and voila, we had the Master Speedway.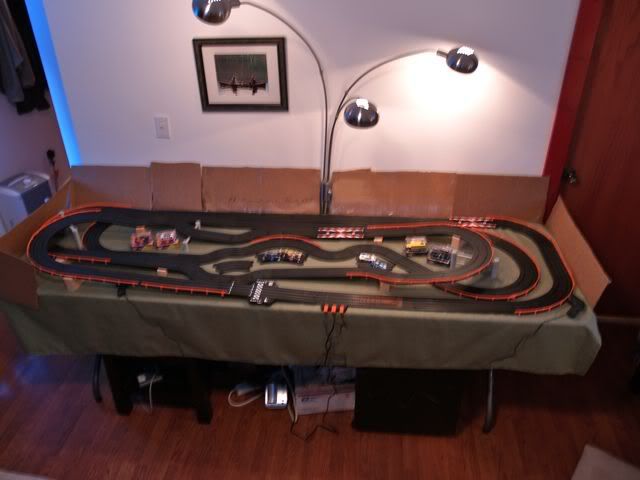 We raced this one for a while and it was a bit crash prone, so version 2 came about.
Very fun, but haven't raced it yet. We like all the cars but it is amazing how different they are from each other. 2 Clear SRT cars, the McLaren and a Shelby are loud, but very fast.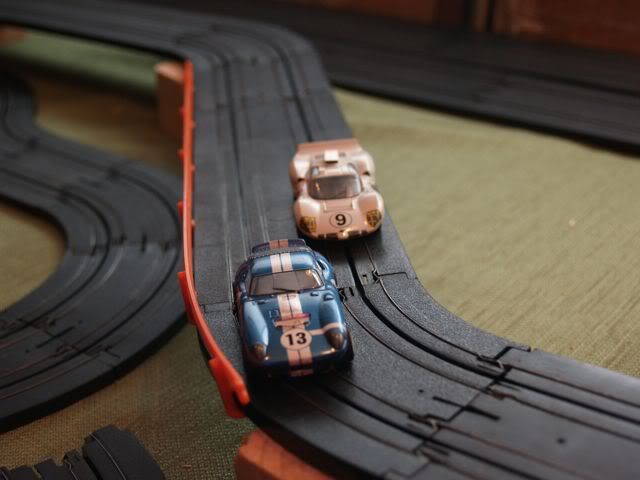 The 4 F1 cars that came with the set are MegaGs and like little lightweight rockets. Very quiet too. We really like the two UltraG X Traction cars as the speed is a bit more manageable on the bedroom track and they slide around corners more than the others.
Then there are the 4 gear cars. They are truly sweet!
The bus is as you would expect, heavy, gets stuck on guard rails (they will eventually be replaced when we move back to the shop in favor of borders), but fun for sure. And, I love the funny car. It looks cool and drives great.
It has been a great Christmas here. We have all played with our new toys and hidden from the cold temps. First thing for us to get is a Tri-Power pac for kids to race on the track, and a banked turn or two, or three, or four.
My little girl is 2 1/2 and she will be wanting to race soon and not just sit and watch with big eyes. I even caught my wife online looking at more cars! She is having more fun with it than even she expected.
Thanks for the cool site to get ideas and share. Some of your tracks defy imagination and we can't wait to try our hands at something more permanent. Merry Christmas!