A few months ago I posted
this thread
about steering and received some very helpful replies. The idea was to make up a slot car that wasn't done by the other manufacturers, not a race car (because I'm not a slot racer) but capturing the spirit of my youth watching TV on a Saturday afternoon.
When you're a kid growing up in England during the late '70s, the homegrown TV is pretty tame. American TV on the other hand was much more exciting, there were car chases and crashes - Starsky and Hutch couldn't drive more than 5 minutes without a huge burnout and tail slide, the Fall Guy was even more so and of course The Dukes of Hazzard was 50 minutes of weapons-grade action.
Unlike racing, the key attributes seemed to be wayward handling, taking every corner with the handbrake, tyre squeals on dirt, soft suspension and burnouts. Let's see how many we can capture in 1:32 scale!
My craft skills are ok for a model kit but there's no way I can sculpt a bodyshell from scratch. Let's get the subject matter sorted first, the 1977 Dodge Monaco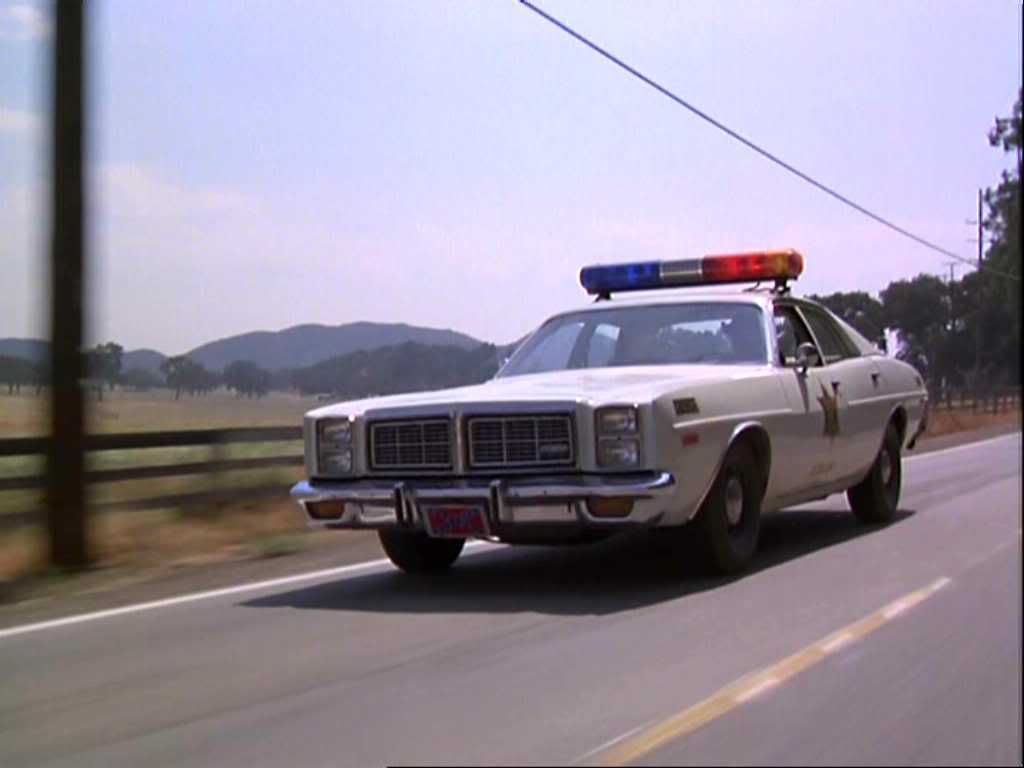 Now for the specification – it should have suspension that lets it lean realistically in a curve. The roll centre of a solid rear axle is easy to find, we'll make the roll centre of the front suspension at the same height so it doesn't have a roll gradient.
It should have steering, this is essential when doing huge power slides and even just when on tight corners. I just think it looks fantastic, so you'll have to humour me. You don't mind?
Finally, when you hit the throttle what does any chase car do? A burnout! I can take or leave the noise but I like the idea of smoking tyres so that's what I'll do. How hard can it be?
Let's get going with the design proper. I can do the chassis and body but I'll reuse a motor, rear axle and perhaps a guide blade. That means they should be the first things to model up. Sod that – I want to get going with the body!
I use Solid Edge almost every day, it's pretty rubbish but at least I can use it at lunchtimes. For 12 years before I used ProEngineer which was much more powerful, if I had a copy I'd much prefer to model things using that, but you use the tools you have around you. First tool is some graph paper.
I went to
http://www.the-blueprints.com/
and found a 1977 Dodge Monaco, but beware when using these sites because the plan view doesn't always line up with the side view. How I laughed when I found that out
Using my friendly copy of PaintShop Pro, I resized the picture so it printed out 2:1, then I transferred it onto graph paper (see how high-tech and modern this is?). Then I could get the outline shape measured with more accuracy, and I could sketch it in Solid Edge.
I started by doing a plan view, because the car is tapered front and back, then I sketched the side profile.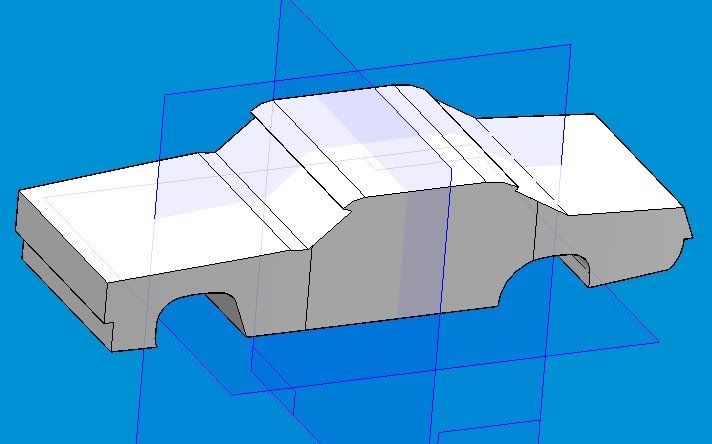 I put some shape to the sides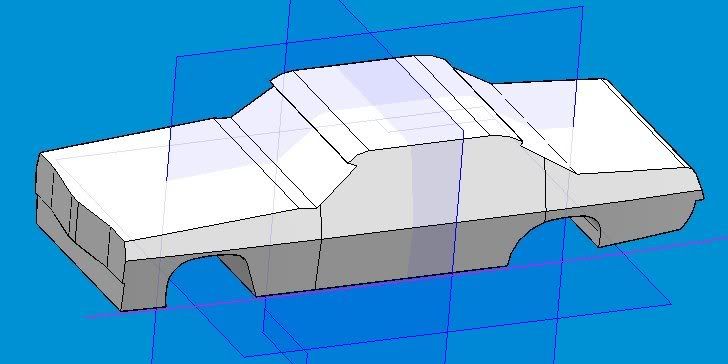 Then made it hollow (shelled), and put a few more features on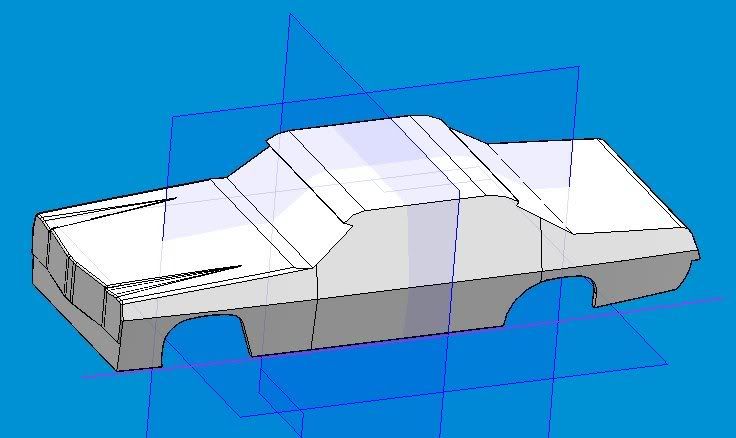 Verdict? Looks awful!