Race #1, Mike's track in Sammamish, aka Raceline Raceway.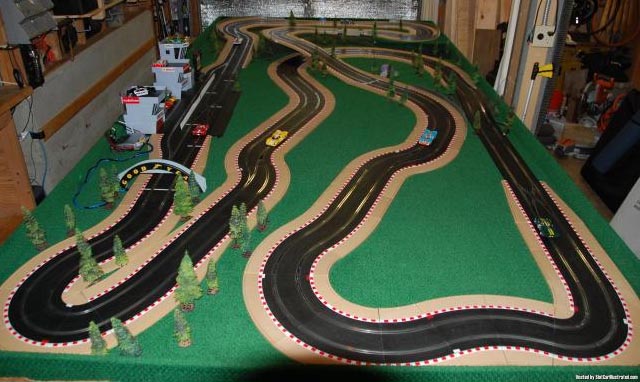 DawgNut has joined the group for this series, and started off with a bang! Along with Earthbound and MajorMagless, CarlosInSeattle, TheRockinator, and myself, we had a full 6 car grid. After some testing and practice, we started off with a 10 lap qualifying run. Turns out Carlos' chip was having issues, so he swapped his chassis out with TheRock's spare, and was back in the running, pulling out a 5th place in qually, just ahead of me. MajorMagless took the pole, followed by TheRock, Earthbound, and DawgNut. This gave us the grid positions for the first race, and the drivers got to choose where they stood while racing in turn. Most of us stayed where we practiced from, as usual, with me manning the computer (as usual
) No points are awarded for qualifying order, but we can change that down the road if the group wants to.
We decided to race a couple 50 lap races with fuel as we had done the previous series. Unfortunately, our first attempt was abortive, as when I reached over to hit the F8 key to pause the race when someone's controller wasn't letting the auto-track-call kick in, I accidentally hit F7 at the same time... which ENDED the race. Who chose those keys, again? :P Anyway, we decided to keep the results of that for the time being, in case we ran out of time to run more races.
Our second race, after plenty of shaking down up to this point, went much better. The faster guys took an early lead, with some of us driving much more carefully and conservatively. Being a 6 car race on a technical track, there was plenty of car on car action, but just as much overdriving and understeering. The "yump" on the back straight caught all of us more than once, and some of us quite a few times more. The drivers that managed to keep the guide in the slot and conserve their fuel slowly worked their way up the standings. In the end, I was able to eek out a win by staying out of too much trouble and keeping as far away from the pit lane as possible.
With two full races completed, we voted to delete the race that was cut short, so there were no points from that one, much to some racer's chagrin.
Our new "official" second race of the day went well. We gridded up according to the finishing order of the previous race, which put Dawgnut and myself up front, having to run away from the faster racers. I managed to stay out of trouble, but I think the nose of someone else's car found the bumper of Dawgnut's, and helped him out of the slot. That's ok, because he kept his head cool and dialed in his trigger action to again, stay out of trouble and conserve fuel. We both managed to stay out of trouble, but a crash in the last few laps gave me a penalty that I didn't want to keep. I'm not sure if I would have won the race if I kept it, but pitting to clear it gave Dawgnut just enough time to get around me for the win! uh-oh... time to watch out for this guy!
For the final race of the day, TheRock decided to serve as the official Jam Car of the race, and made it a point to be as hard to get around as possible. Of course, he also found himself with 3 penalties and no laps being counted, which didn't bother him at first, but I believe he went in to clear a penalty or two anyway. He didn't jam us all up during the whole race, but did make it a point to try and "spread the love" around a bit, and make sure everyone got a taste of the action. I managed to stay out of his way for the most part, but a late crash forced me into the pits one more time, this time letting Earthbound get around me for the win! Go Earthbound!
At the end of the day, individual race points tallied, we had a tie for second between Dawgnut and Earthbound, but Dawgnut got the place due to having more high placings (a 1st and 2nd compared to a 1st and 3rd). So, after the first race of the series, the points are as follows:
MrFlippant: 10
Dawgnut: 8
Earthbound: 6
MajorMagless: 5
CarlosinSeattle: 4
TheRock: 3
Next race is on Nov 9th at Carlos' track. Be sure to bring it!