The following is a list of the tracks that are lined up as of today for the 2016 CanAm proxy.
We have a total of 11 tracks at this point and will add one more as it becomes available (hopefully in Canada; so that we can keep the numbers somewhat balanced between the US and Canada)
We will also include pics of each track and a description of it, so that you can use this information to help set-up/tune your cars.
Here are the tracks, locations and tentative target race dates (all dates are actually ranges and the race may take place either earlier or later than the target date).
Total time for the 12 races should be about 7 1/2 months, shorter if we can get the races closer to 2 week intervals. We've structured the races so that the transportation will be relatively easy; starting in the US-East, moving to Canada-East, then Canada-West and going from there into US-West and back to US-East. Having 3 races in MA-CT, 2 in MI, 3 in the WA-Canada-West area and 2 in Canada-East, helps a lot with the timing for the races.
1. Lee Marquardt Raceway - CT - Feb 15, 2016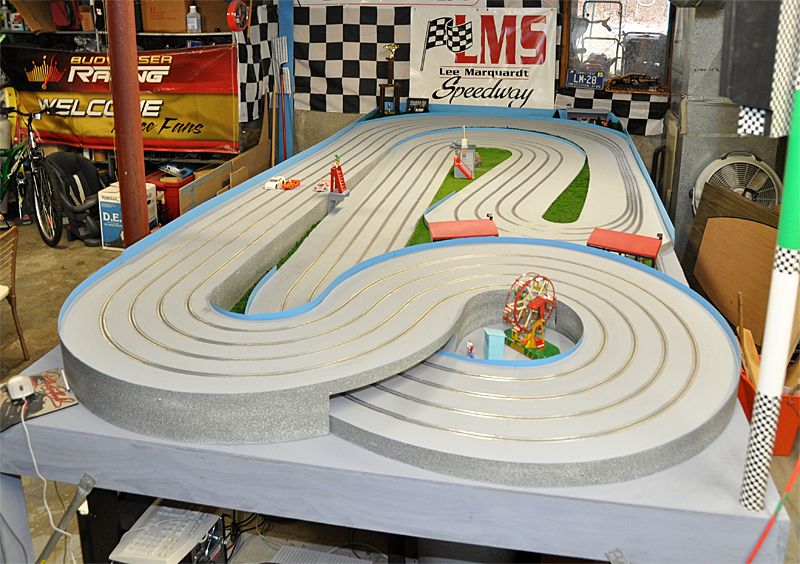 Length - 57 ft
Surface - Mdf well seasoned
Voltage - 10.5 volts
Timing System - Trak Mate
Lane conductivity: Braided
2. Wayne's World - CT - March 1, 2016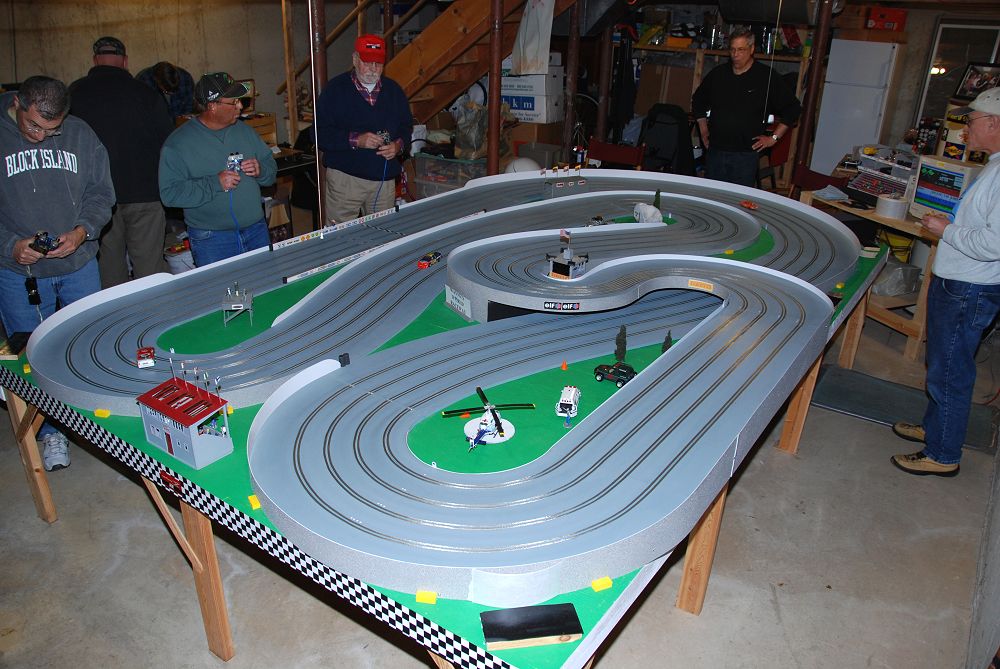 3. Cornerstone Raceway - MA - March 15, 2016
TRACK CONSTRUCTION
• 4 lanes
• Track length: 75′ to 83′
• MDF latex painted surface with copper tape, 7'x20' foot print
• 4 driver stations with reversing switch and fuse
• 5 Track call buttons, (one main, one per station)
• XLR and alligator clips
TIMING:
• TrakMate SW with photo diodes
POWER:
• Pyramid PS26KX power supply, 6-15 VDC, 22AMP
• Continuous, positive polarity.
• Track voltage 10V
4. Circuit de la Grande Dame - Montreal, Canada - April 7, 2016
Length - 80 feet
Lanes - 4 lanes, copper braid
Software - Race Coordinator software, TrackMate interface
Surface - latex paint, smooth surface. Lots of fast turns, very flowing track, marshaling not always easy (offs can be costly)
Power Supply - Run at around 11 volts / 10 amps
5. Circuit Courville - Quebec, Canada - April 21, 2016
Length - 57 feet
Lanes - 4, copper braid
Surface - painted latex (smooth), very technical track with a faster section
Software - Race Coordinator software, TrackMate interface
Power Supply - usually run at 10V / 20 amps
6. MG Raceway - Victoria, Canada - May 15, 2016
7. Suzuka - Victoria, Canada - June 1, 2016
8. Scaleracing - WA - June 15, 2016
9. Cloverleaf Store Track - MI - July 1, 2016
10. Cloverleaf Home Track - MI - July 15, 2016
11. Amoskeag North Racing Park - NH - Aug 1, 2016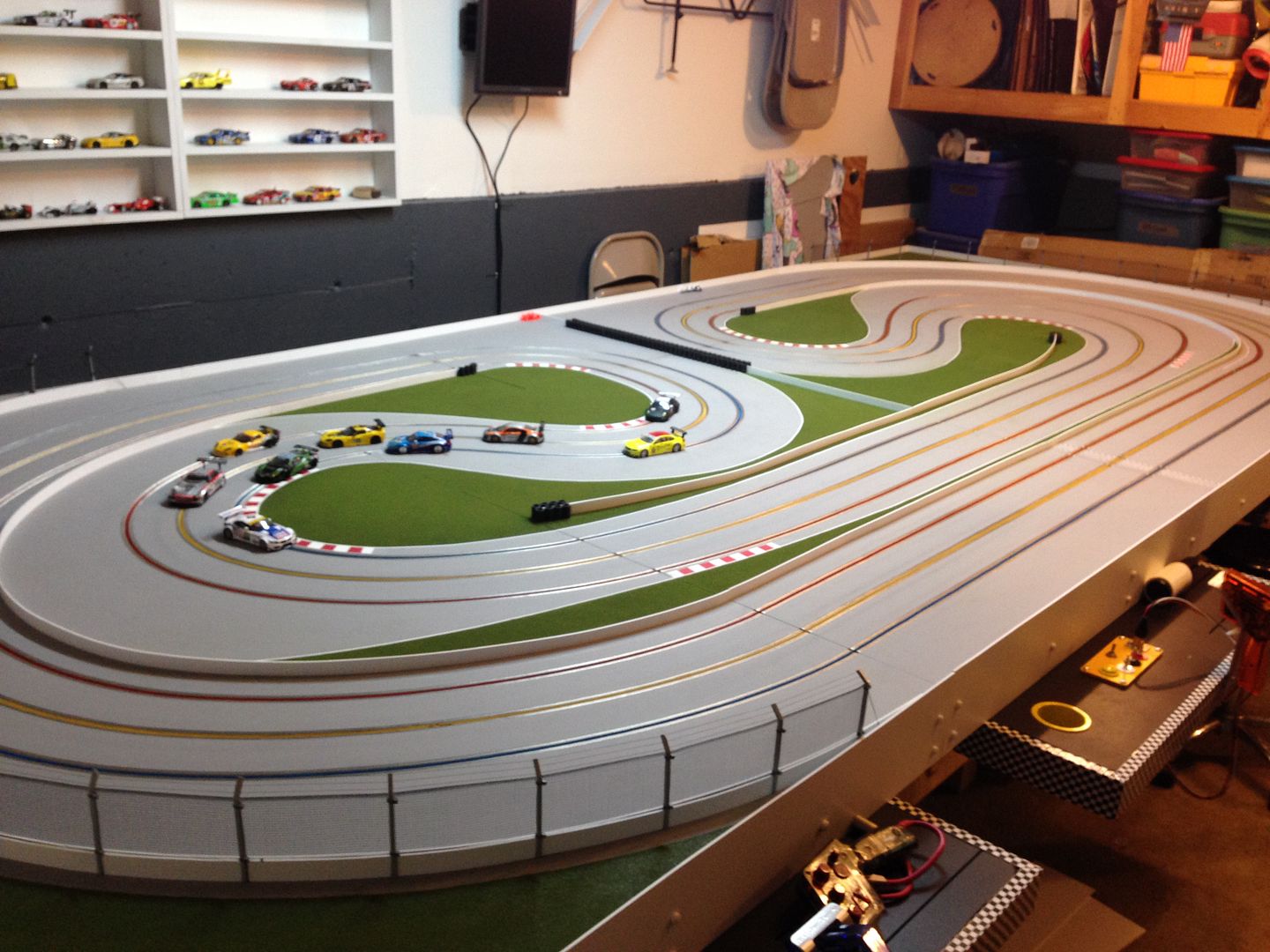 3 Lanes
Avg. Lane Lenght is 60ft
Painted with Flat Latex
Usual running voltage is 10v
Silicone and Urethane are both run on my track
12. The River Run - MA - Aug 15, 2016
[IMG]
[/IMG]
Length - 60'
Number of lanes - 3
Surface - flat latex
Voltage - 10V
Software - Trackmate
Allan