The box arrived safe and sound today
Once again, I feel priviledged to host a proxy race round of the CIP: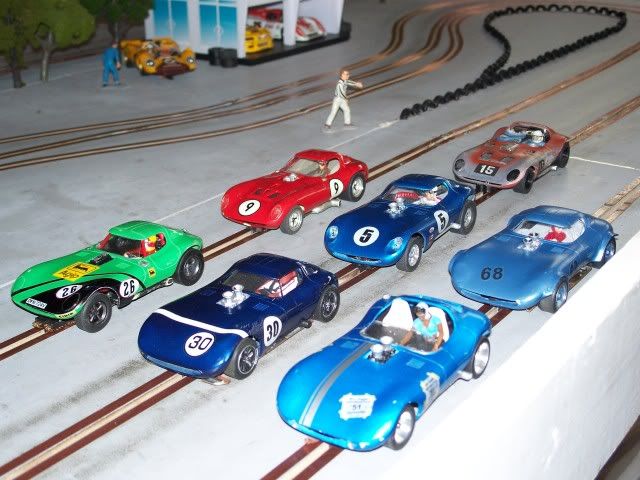 I let them stretch their legs today, trying to get a feel for how they handle on my short 16x4 wood track. More pictures here:
http://s9.photobucket.com/albums/a72...0Proxy%202011/
(The three pictures of the green Cheetah are there to show off the one Lou E made me......he even personalized it with my screen name on the hood!
Thanks again Lou)...
Since you guys sent me some rockets again (
), I turned down the voltage to 10, and made mental notes on where the sensitivity and brake knobs on my Professor Motor controller worked best with everyone's car.
After running them for 5-10 minutes each, here were the best lap times for
Practice session #1
in the center (best) lane:
#15 5.79
#68 5.88
#9 5.91
#30 6.10
#51 6.56
#26 6.58
#5 6.76
(To get an idea, my NSRs and Slot.its run about 5.8--5.9, so you should all be very proud)
Cheetahs were all so smooth and enjoyable to drive, the craftsmenship again this year is spectacular!
Thanks so much guys for letting me host again this year.....I really appreciate it.