These are the host tracks for the 2007 Slot.it Shootout Summer Series.
I'll update and add the other three as the info is received.
Robert Livingston
East New York Raceway
construction: routed MDF/copper tape
power: 13.6V/30A
lane length: 18.6m
longest straight: 4.9m
hot lap time: sub 5s
B52RN
The R.A.S.S. (Road Augusta Slot Speedway)
61.87' long of Scaley Sport track with the longest straight about 9' long
Dual standard Scaley wallwarts power and a Scaley lap timer/counter
Best lap time was done by a magged Scaley F1 with PPRs at 4.9 sec
My Nissan Calsonic for the first Shootout, the best time I did(no mag) was 6.9 sec.
PPRs seem to do the best on this track.
Terry Noe
Targa Track
construction: routed MDF/copper tape
power: 10V/22A
lane length: avg. 91.33'
longest straight: 11'
hot lap time: sub 10s
track host notes: Slot.it S1's, S2's and PPR's work great here. Ortmans work good too.
Track record (Red lane) Nissan Clarion 21.5k SW, 78g, PPR's, 10.145 seconds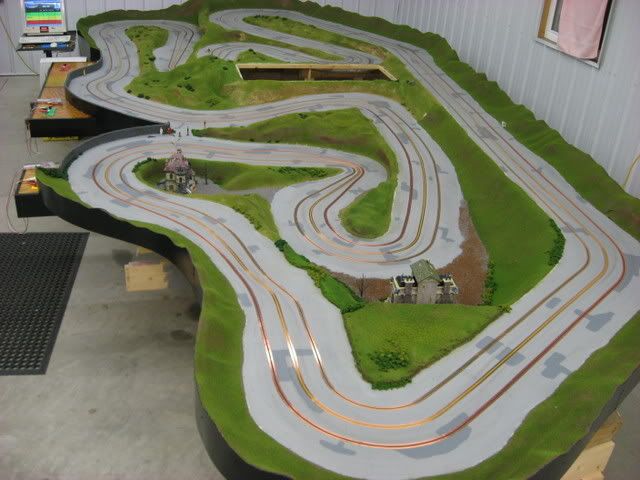 Supr2nr
The Track is a 4 lane Scaley Sport 64 foot with all equal lanes.
A MG adjustable 0-20 volts power supply.
Prof Motor 2055 Cont on all four corners.
Timing is done with Trakmate for windows,one 17" monitor on one side.A 19" Sony LCD on the other.
Auto Power On/Off.
This is a fast track to run.
Track record for non mag set up is my Ninco ProRace Supra with a 5.234, ScaleAuto 25k longcan.
Mag record is my Spirit Reynard Bone Stock cept for rear tires at 4.203.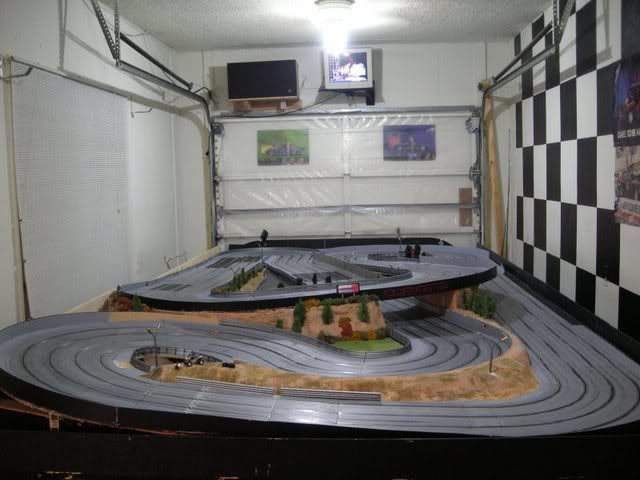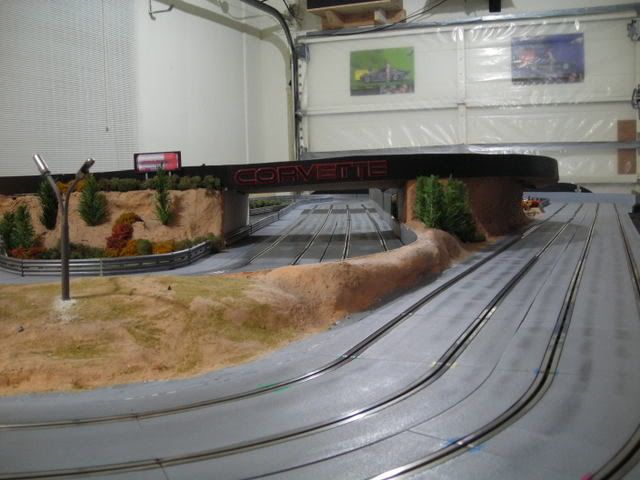 Alan Smith
132SlotCar
Sport Track
Windsor "American Raceways" Track
80' lane length
Magnabraid
This Track runs on a 12 volt 50 amp power supply with timing by SRT.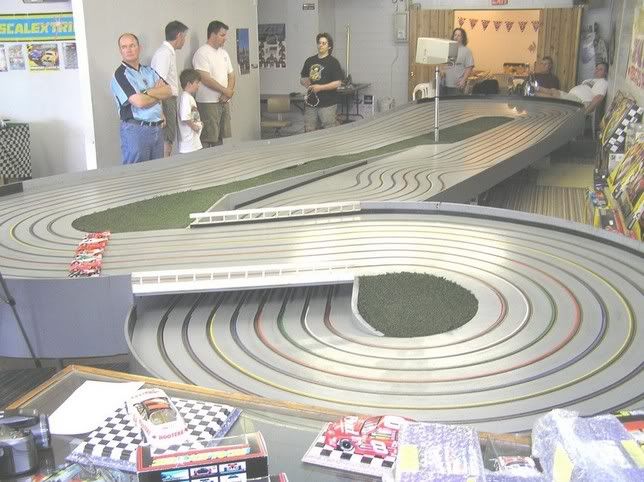 WCR
79' wood track,
slot depth is 9/32",
specklestone surface
I run it at 14 volts, and use a PM2044.
Supertires are probably quickest here, along with S1s, but Ortmanns can be great on this track.
Lap record is 7.904 (Smokeio Audi AWD), any car that gets into the eights is well put together and balanced.