Heya peeps.
I've been working on getting my Scalextric Sport Digital track up and running lately, hoping to have an open race day soon. I'm not there yet, but I figured I'd let you all in on my progress here on SCI.
I've been having a hard time coming up with a name, but after many ideas and suggestions, I think I'm leaning toward Rainier Raceways. So, I'm using that here, so we'll see how that feels after a while.
Earlier, I'd been working hard cleaning up, cleaning out, and rearranging my garage to make room for a slot car track. It got to the point that I had room to build one of my planned two table set up, which I could then use for storage to make more room. Yes, lots of stuff that can't possibly be gotten rid of in there. ;-)
Once we got one table together, we painted it and put it to one side. As you can see, we couldn't resist putting a simple track on it, even though another table was going to be built soon.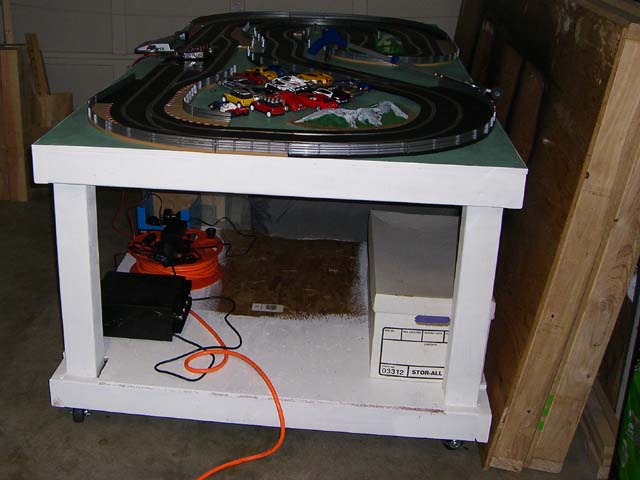 And here's a better view of the little 4x8 track.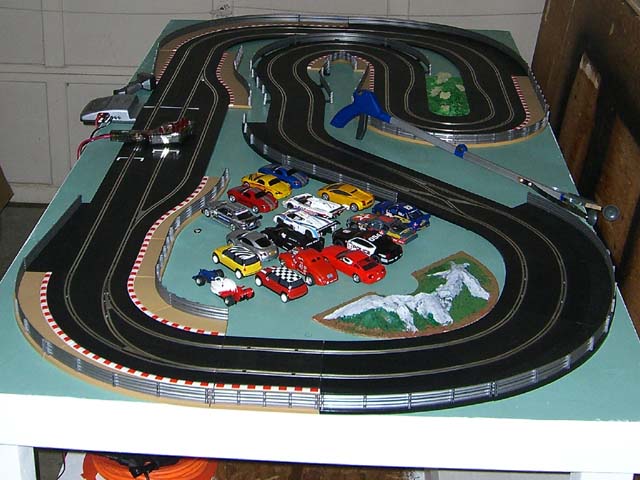 Still a pretty meager car collection, but part of the fun of the hobby is adding to it.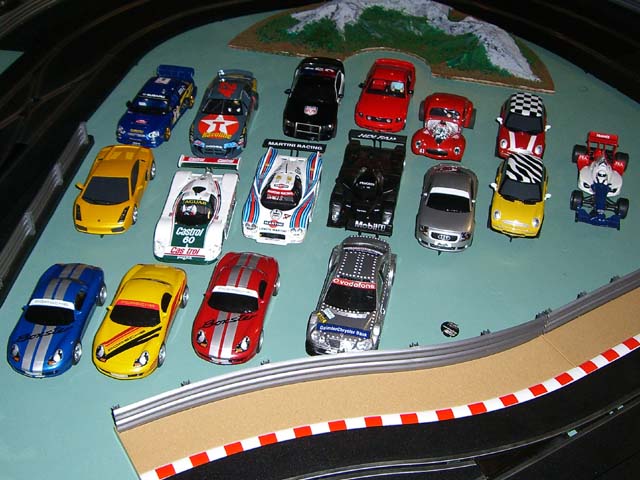 The second table came together, and I recently had time to paint it and move all the garden tools so that it could be put against the wall to allow passage around all the other sides. Also took the opportunity to add a small shelf system for cars.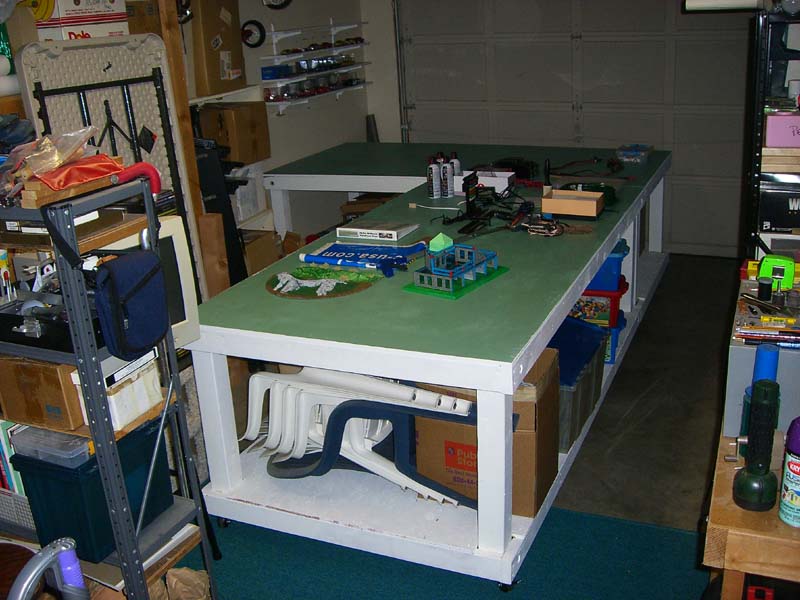 At this point in time, this was the layout. Clearly, this is designed to maximize the track length in the given space. It came down later...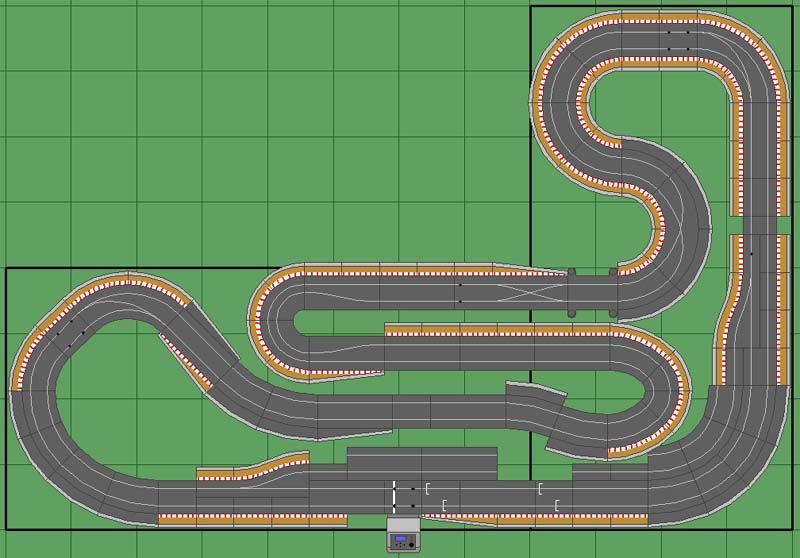 As you can see, there are no walls or anything to catch errant cars. I plan to add the walls soon, turning the whole thing into a typical flat slot track "dish" for a while. I've added a hanging shelf under the track surface to set the PSU and Powerbase on, which I plan to split from the track eventually. Color coded driver stations will also be added.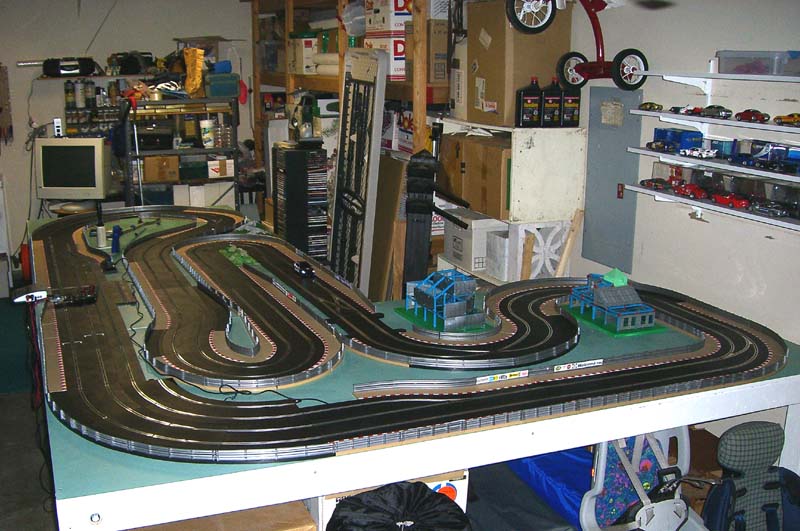 Through the kind generosity of our very own cantstopnow, who had switched from 2 to 4 lanes a while ago and had a big box of leftover borders which he passed on to me, I have set up my first full table layout!
With the borders we already had, plus the many MANY we got from cantstopnow, almost the entire track is bordered. In fact, the only places it's not bordered are where they just wouldn't fit, and a couple inner borders that aren't really needed.
Now we can really start experimenting with no mag racing.
Here's a shot of the front straight section: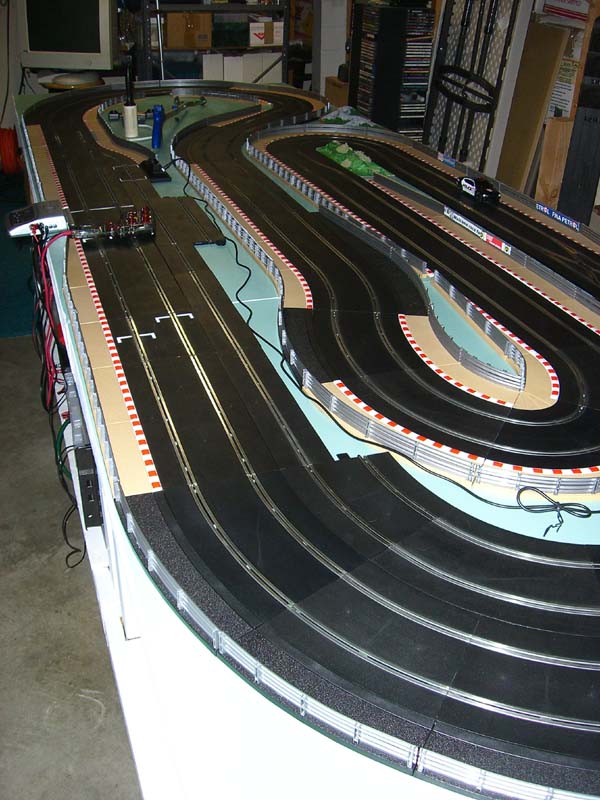 And the L section before the front straight: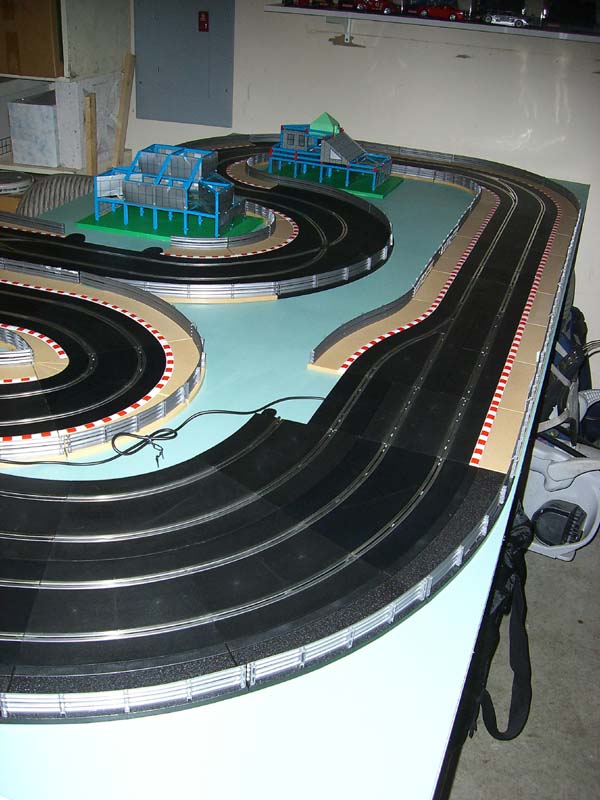 I might have to change a couple small things because it turns out the layout hangs off about a half inch on one of the curves in the L section, and I want to put up walls to catch deslots that go over the barriers, not to mention something better to hold drivers stations to.
Speaking of driver stations, since Slot.It controllers with digital carts are rare around here, I'll probably make "portable" power supplies for the drivers stations. Each station will take a standard controller, and have a bit of velcro to hold a small project box with a 9v battery and an appropriate size DC jack for the controller power. I've already tested this theory with a simple 9v battery connector and one of the extra SCP power supply cable thingies that it comes with (the Carrera one, as I don't expect to ever need it):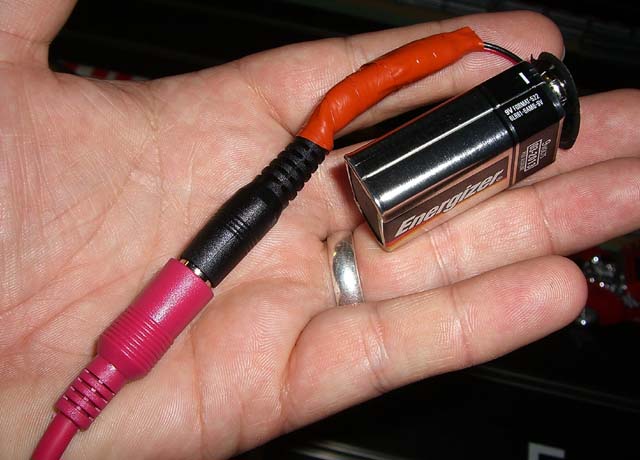 It works really well. I don't know how long it will last, but that just means making sure the battery is easy to replace in my little power supply box.
It's too bad there's not a SCP digital cart that comes with a battery box right on it, or if it's not a power hog, maybe a little lithium battery right inside the cart.
The next update...
Firstly, I took the layout down and decided to put down carpet. This is a common track underlayment for home tracks in the area, and since I expect to change the layout often, I can't really spend much time on landscaping other than small portable sections with no prescribed location. The carpet is a low pile indoor/outdoor carpet with loops so that it won't be fuzzing up and getting into cars. Also, it's common to put cars on their side if they have to be put on the carpet (such as for crash and burn racing like the analog guys run). It's also a great sound dampener. I was happily satisfied by the quietness of the new track that I have down now. It's nice when things do what you expect them to do.
I was going to just staple the carpet to the table, but the MDF is so dense that the staples didn't like to go very deep. As such they showed through the top of the carpet, and would look like junk if I did it that way. I also couldn't fold the carpet over the edge as I planned to have walls flush mounted at some point. So, I ended up getting carpet cement and glued the whole thing down, then trimmed off the excess. Here are a couple shots of it.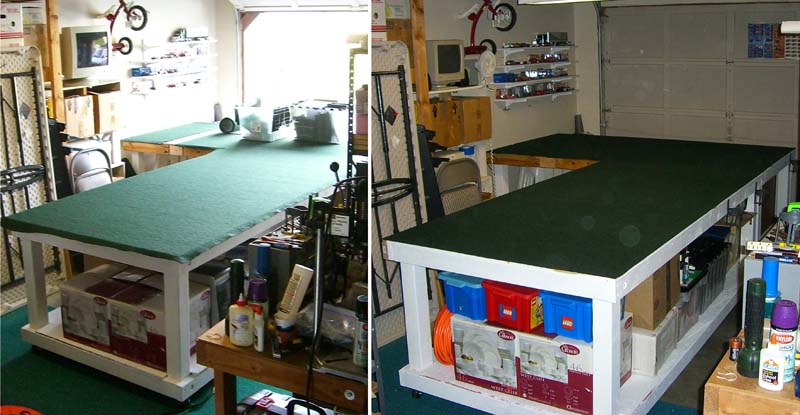 After I got the carpet down, I spent some time getting an old computer set up for the RMS computer. It took some time, but I got XP home installed on an old machine, got all the updates for it, the latest SSD Console, and since it had a wifi card in it I set it up on the network to play music from my MP3 archives. I also spent some time making sure all the parts worked properly when connected to the computer, specifically the Lap Tower and Pit Pro. It took me a little while to realize I had the Lap Tower connected wrong. I was about to post about it, but then I figured it out and was happy again.
After that I had to find a good place under the table for the computer, as well as get power and VGA cable to the monitor which was set up on some shelves for visibility. It's a bit of a mess of wires under the table at the moment, but once I get walls up and drivers stations, I'll spend time running all the wires through guides to keep them out of the way.
So, time to lay down some track! My son and I had both spent some time fiddling with track designs to fit the table, currently sticking with flat designs. With a few options in hand, my son chose this one from the pile: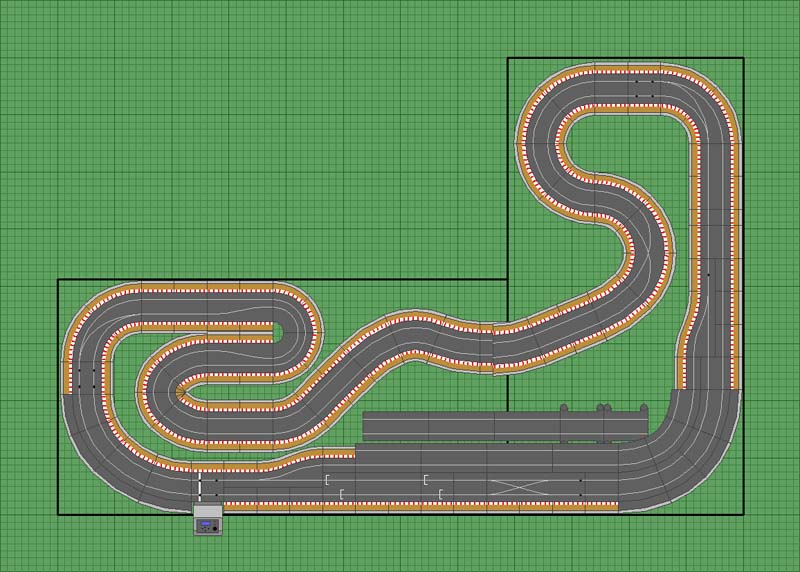 And this is how it looks all set up: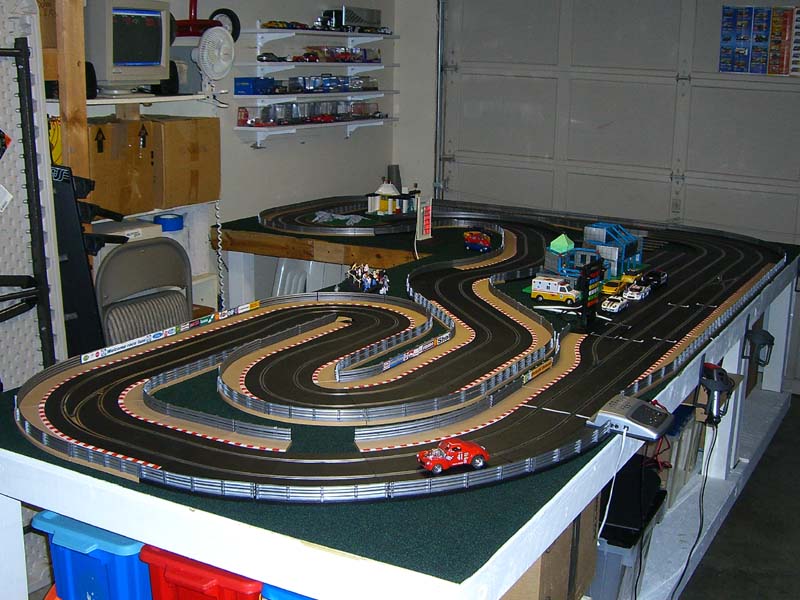 Apparently, things have progressed enough for the Homies to make a visit and spectate a little: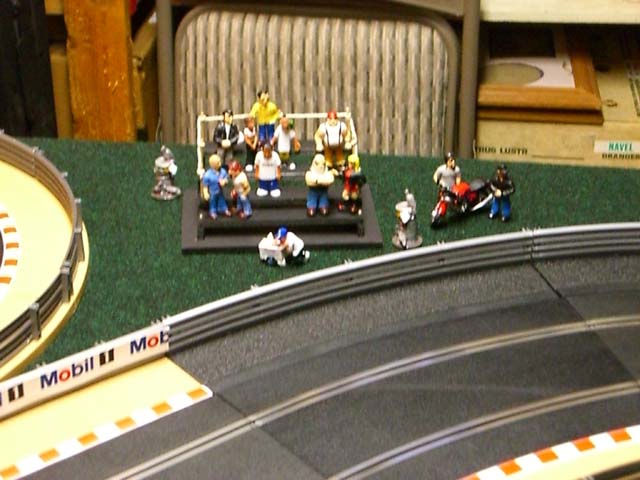 I cobbled together a simple holder for the Lap Tower. FlyingLizard graciously donated the old Scaley Event tower (no building) for me to use as I please. As you can see I followed Riko's lead and carved out a space for the Lap Tower to peek through. A little hot glue to hold it in, and then some more to hold that piece to some scrap foamcore and bam!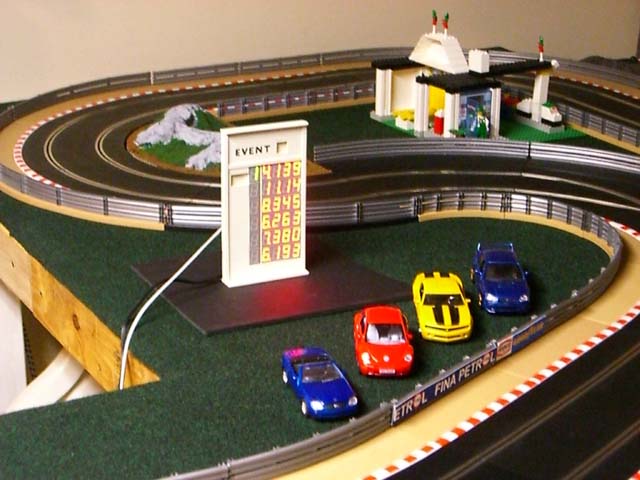 I do plan to make a proper building for it to stand upon, but I might also ditch the event board all together.
This is the pit area. As you can see, I had so much extra track that I just set it all down there to put unused cars on. So much parking there that I wonder if it's not pits at all, but a parking lot!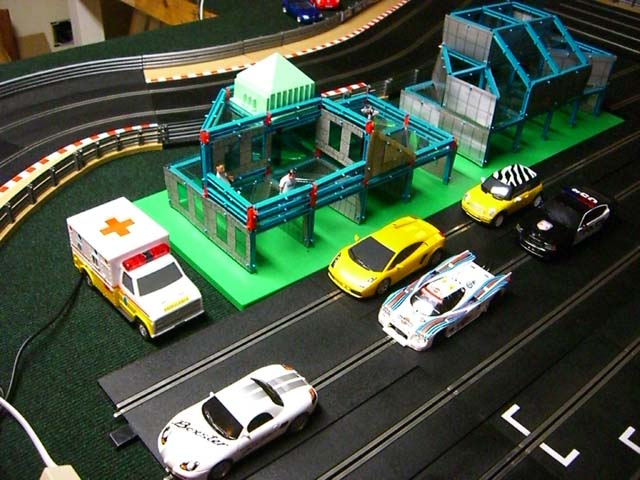 Next update will hopefully include protective walls around the table, drivers stations, hidden wiring, and a powerbase split from the track. One step at a time, though.
See you then!