Throttle curves are a very personal thing. Two people driving the same car will want entirely different controller feel. Fortunately, the Scorpius Wireless controller should be able to cater to any of those desires. The hard part is finding the curve that offers the feel you want. It's my hope that this thread will encourage people to try new curves of their own creation or inspired by others, so that they can get the most out of their Scorpius Wireless controller.
I've never been happy with any of the
default throttle curves
. It wasn't until I manually plotted out all the curves that I realized they all have the same initial/base speed, and then the curve just gets deeper and deeper. For some people, possibly a majority, these are fine. For others, like myself, a different set to choose from was needed.
The first thing I did was turn the set of curves into something more like the sensitivity knob on an analog controller. That is, the knob just turns up the initial power level you get when the trigger is just pulled a little. The first step, so to speak. I created 9 curves (0-8) that were perfectly linear, except that the initial power level changed. The first curve was straight linear, from 0-100% in 10% increments. From there, I used the Scorpius Throttle Setup program's "Set Curve" feature to create more linear curves with higher and higher initial power levels, in 5% increments. The last one started at 40%, though I don't expect that will be much use to me except for high magnetic traction cars. I figured these would probably cover most bases for me, but I also wanted something different.
While playing with RCS64 over the last year or two, I learned to appreciate a simple S-curve. In fact, Rick showed
something like this
early on in the Scorpius Throttle thread when first mentioning plans for sensitivity and anti-spin control. This one is not possible using the Set Curve feature, but has to be entered manually for each of the 10 data points. I find this particular curve works really well for me when driving cars like Slot.it and NSR, with their relatively hot and torquey motors. On my tight and technical track, mid-range control is very helpful for good lap times.
S-Curve: 0 - 20 - 29 - 34 - 38 - 40 - 43 - 50 - 60 - 80 - 100
Here's another S-curve. This one has a slightly more aggressive attack and less curve from the middle to the top. It should have a similar feel to the previous S-Curve, but be better for lower power magless cars, and/or higher power magless cars on a larger/faster course.
S2-Curve: 10 - 25 - 35 - 40 - 44 - 48 - 52 - 60 - 72 - 85 - 100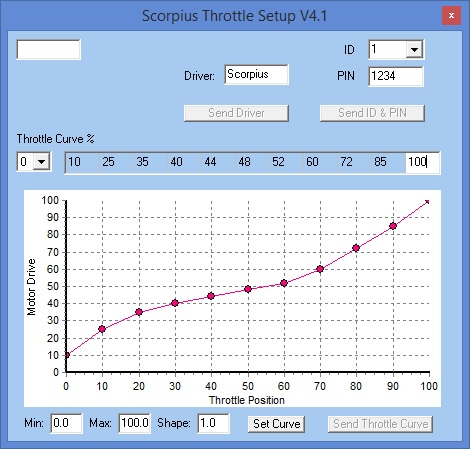 By no means am I suggesting that these curves will be better than any other curve for everyone, or even people driving the same cars as me on the same kinds of tracks. It couldn't hurt to try it out, though,
could it
? What I would really like is for people to show off some of the throttle curves they've created and find useful, especially if they have particular ones that suit particular cars and/or tracks. I'd really like to try some other curve ideas people share. It's easy to share the curves by just posting the 10 data points as I did above the images. Taking a snapshot of the Throttle Setup program and posting that is also helpful. I'd also be happy to post throttle curve images based on the data points people post.
If you need help using the Throttle Setup program, Rick made a video on how to use it:
[ame="http://www.youtube.com/watch?v=0CGq5sora_Y"]Throttle Set up tutorial - YouTube[/ame]
Thanks for reading. I hope it's helpful to others.