It's taken me much longer than I expected to get this out, but here goes.
This project is an interface to connect WOS to a PC for use with PC Lap Counter software. It is modular in nature meaning there are many features and you can connect only the inputs and outputs that you desire. Currently it is capable of:
Outputting start/finish line crossings and pit lane entry and exits for scoring
Track data intercept which we use to
Limit the speed of the cars (great for kids)
Enforce a reduced speed when out of fuel
Automate throttle enable/disable, useful for events
Will eventually do blinking headlights for leader
Drive RGB LEDs (APA102) for start light grid and fuel gauge for each car
Small LCD screen, currently just displays the reduced speed level
Optional key fob remote for starting, pausing and resuming races without having to reach for PC
Here is my quickly rigged up start lights with fuel gauges: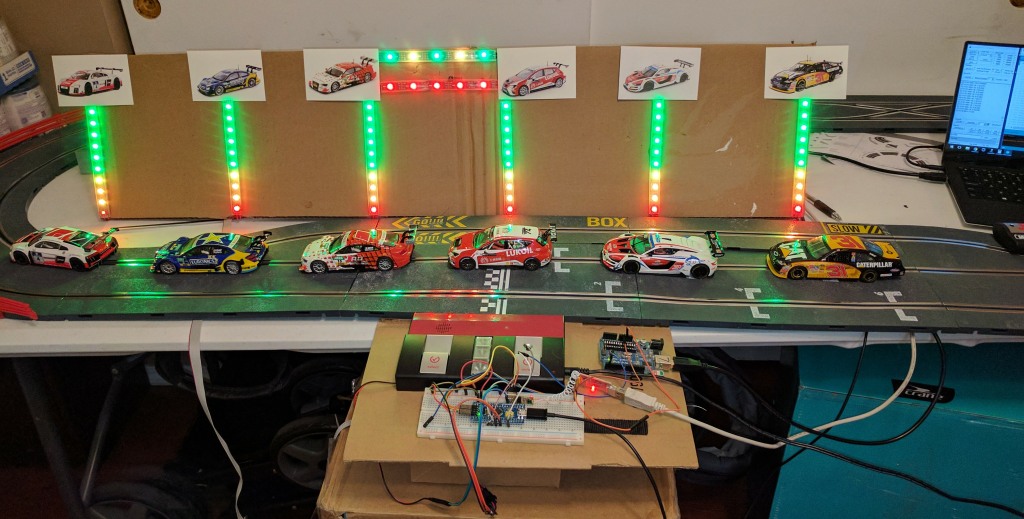 Some of this is geared towards running events for unskilled or young racers. I was originally aproached by Draconious on this forum who does events and I had the track set up to race with my kids and their kids.
These are the parts required.
These is not the only sources, all these can be found on eBay or even Amazon for a few bucks more.
These first three are the minimum hardware required.
USB-Serial adapter:
https://www.aliexpress.com/item/CJMC...801557756.html
Main CPU board, commonly know as a "Blue Pill" board:
https://www.aliexpress.com/item/STM3...656040083.html
Chip programmer:
https://www.aliexpress.com/item/1PCS...792513237.html
Display for speed setting:
https://www.aliexpress.com/item/Yell...665945724.html
Displays the max speed setting if you use this feature
Key Fob remotes and receivers:
https://www.aliexpress.com/item/2pcs...760575861.html
Allows starting and pausing(caution) race and altering max speed without setting up buttons.
If you prefer, simple pushbuttons can be used or just use the PC Lap Counter screen controls.
The start light grid and the fuel gauges are RGB LEDs, APA102 which can be found all over online.
Here is one base I modified that puts everything on the base track piece. It has also been done in a separate enclosure.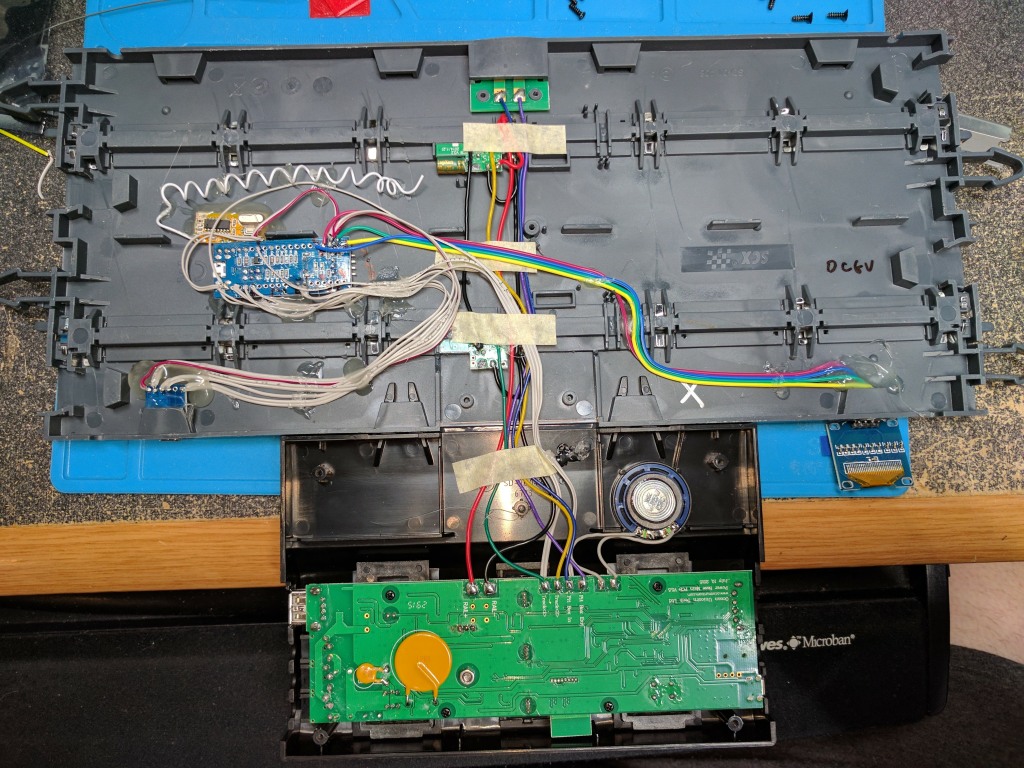 This is the connections to get the lap data.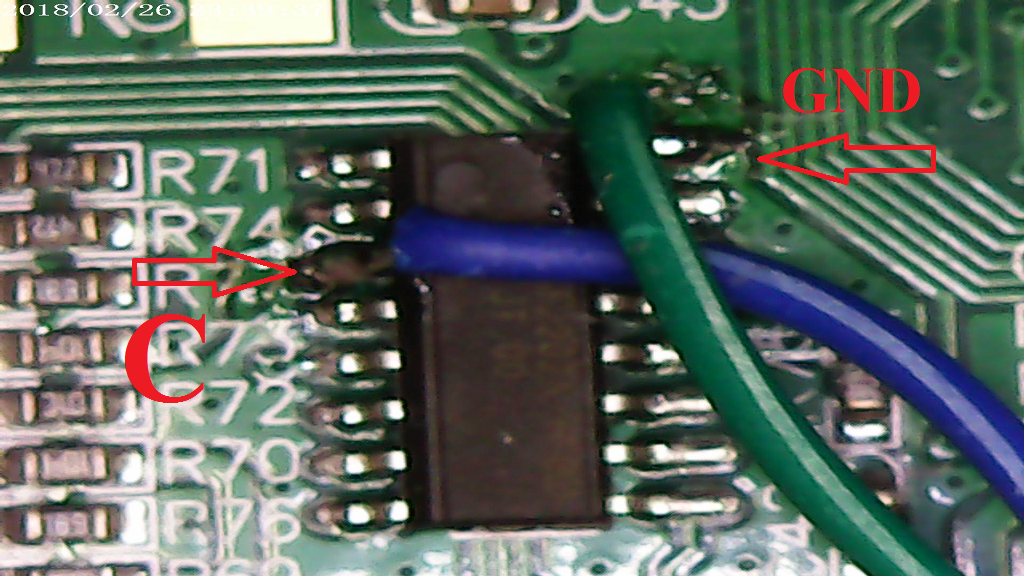 This is the connections for the track data intercept, the trickiest of all the soldering, followed by another pic to show the location.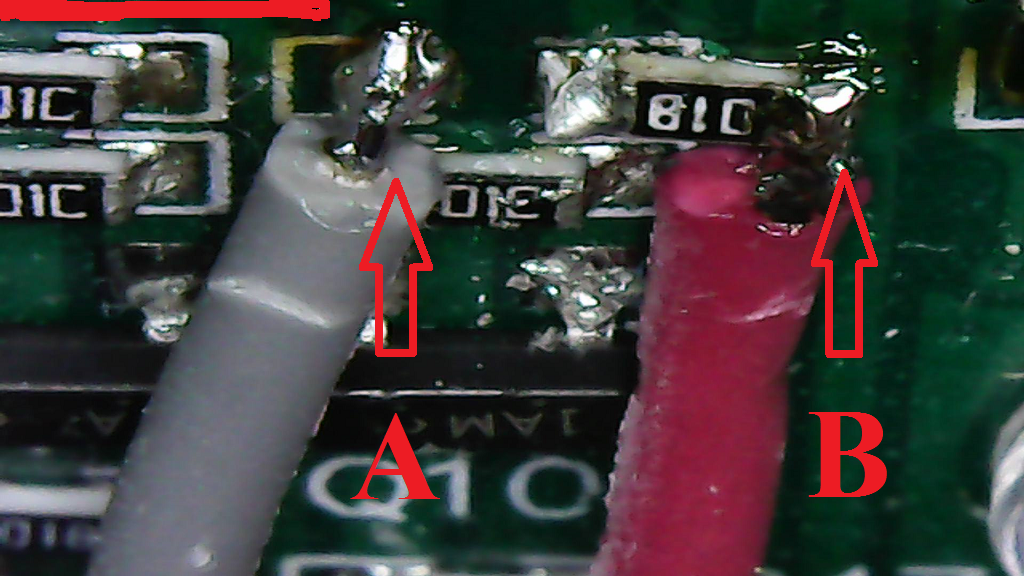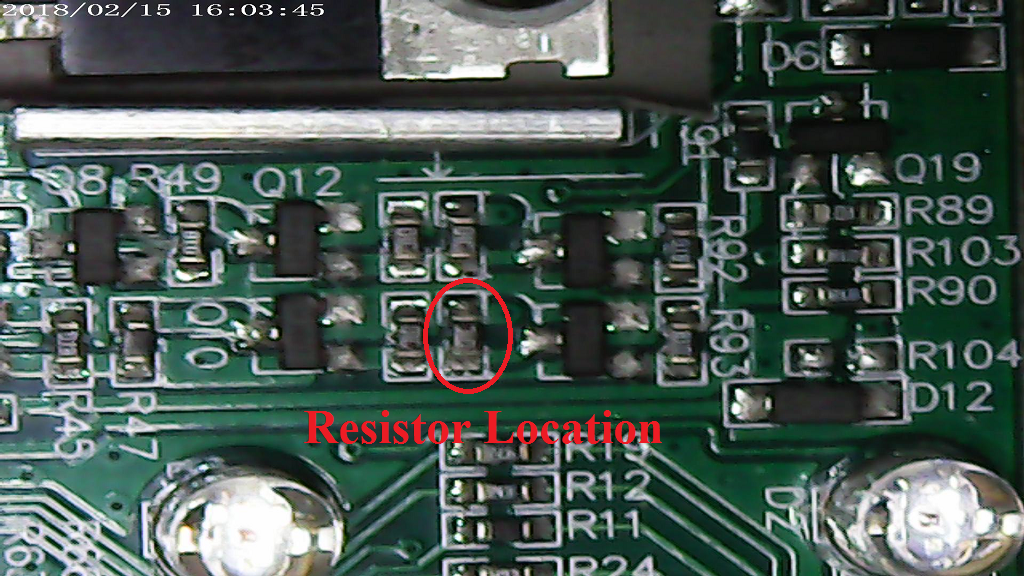 The resistor gets moved over or turned around, then small wires are attached to the two new points.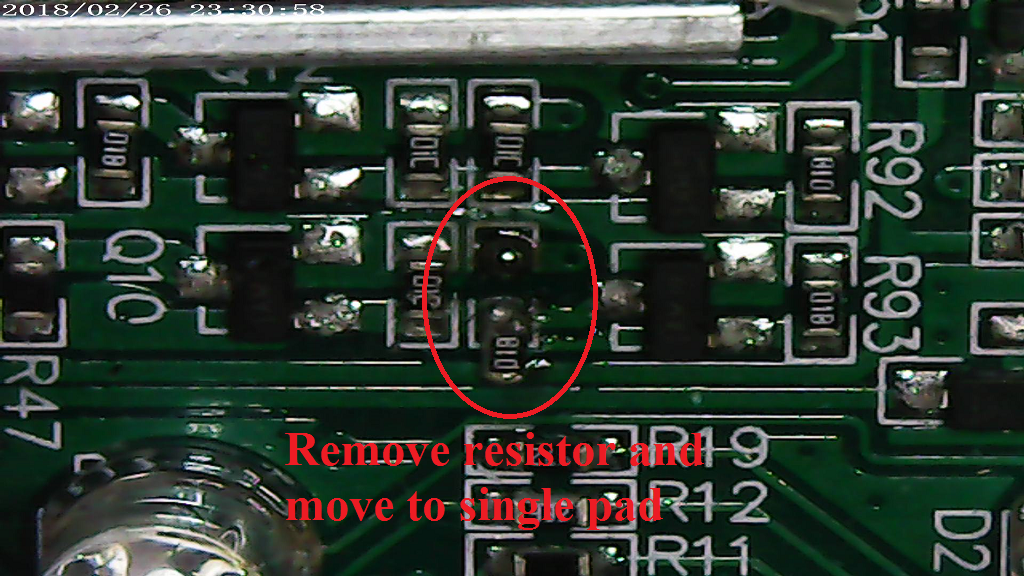 The letters on the above pics correspond to the letters on this diagram:
Ground pins for all components must be connected together and 5 volts from the base.
You will need the ST-Link utility and the firmware file.
http://www.st.com/content/st_com/en/...w-link004.html
Scroll all the way down, it's the blue button.
https://www.dropbox.com/s/kvkdglabzp...P_1.0.bin?dl=0
The programmer connects to the board with 4 jumper wires, supplied with the programmer.
Programmer pin to Board pin:
SWDIO to DIO
SWCLK to DCLK
GND to GND
3.3V to 3.3
The two yellow jumpers on the cpu board should be on the "0" side.
In the ST-Link utility,
1 Click File - Open , then select the downloaded firmware
2 Click the 3rd icon or "Target - Connect" Wait a few seconds and it should show its connected
3 Click the 6th icon or "Target - Program & Verify"
Your total status window text at the end should include all this-
12:04:40 : [SCX_WOS_BP_1.0.bin] opened successfully.
12:04:40 : [SCX_WOS_BP_1.0.bin] checksum : 0x0030F68B
12:04:52 : ST-LINK SN : 48FF73066578555548392067
12:04:52 : ST-LINK Firmware version : V2J29S7
12:04:52 : Connected via SWD.
12:04:52 : SWD Frequency = 4,0 MHz.
12:04:52 : Connection mode : Normal.
12:04:52 : Debug in Low Power mode enabled.
12:04:52 : Device ID:0x410
12:04:52 : Device flash Size : 64KBytes
12:04:52 : Device family :STM32F10xx Medium-density
12:05:30 : Memory programmed in 5s and 601ms.
12:05:30 : Verification...OK
12:05:30 : Programmed memory Checksum: 0x0030F68B