Round 6 was completed yesterday in Oxford Ohio at the Ohio 1/32 Scale Racing League's newest host. Mr and Mrs Butch Dunaway treated us to a full day of racing on the Herman P. Finklemeyer Memorial Raceway. They both worked very hard to prepare in the days before and throughout the entire day for us. The track was in perfect condition and Mrs Dunaway cooked and served us the best pizza and chocolate cake I have ever had. I am wondering if these recipes are in Finklemeyer's cookbook....
Practice got underway shortly after 8 am and at about 9:30, the sound of Scott's blades pounded the ground as he and Ross arrived by helicopter and landed just about a stones throw from the entrance.
We began the races right on schedule at 11am and it was very close racing all the way. The track is quite fast and very fun to drive. It seemed that there were many more side-by-side battles that lasted for many laps throughout the day than I have seen before.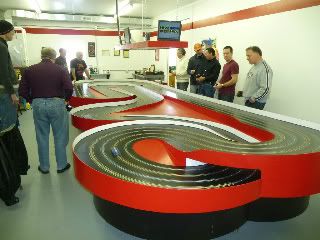 Before I get to results, I want to thank our 2011-2012 league sponsors for their support. Thanks to Difalco Design, SCX Worldwide, CincySlots, BRS Hobbies, Hot Slots 132, and Slot Car Corner. Slot Car Corner recognizes the special efforts of two league members at this round. Congratulations to Butch Dunaway and Eric Roberson and thank you for setting the example for good sportsmanship. Difalco Design had a Genesis HD30 in the battle once again. The more that try it, the more that like it. Thanks Jim! And SCX, CincySlots, and BRS Hobbies each provided a car for our event. The lucky racers to receive these cars were Andy, Eric, and Jeff. Thanks Chuck, Bruce and Brian for the great service and products!!!
These are the numbers through all lanes 5 minutes each.
The NASCAR numbers:
Driver/Laps/Blap/Blap lane
Jeff 150 7.410 Orange
Bob G 146 7.363 Yellow
Pat 146 7.789 Orange
Butch 143 7.579 Green
Scott 142 7.582 Green
Eric 142 7.848 Blue
Sam 142 7.640 Orange
Steve 140 7.859 Orange
Bob B 139 7.742 Orange
Andy 133 7.973 Green
The Sot.it numbers:
Driver/Laps/Blap/Blap lane
Pat 154 7.418 Green
Eric 153 7.468 Blue
Andy 152 7.460 Orange
Sam 149 7.358 Orange
Butch 149 7.629 Blue
Ross 144 7.468 Yellow
Steve 143 7.641 Orange
Jeff 141 7.797 Orange
Scott 138 7.851 Yellow
Fred 115 8.019 Green motor failed
Bob B 151 7.418 Green DQ fun run
Bob G 154 7.359 Green DQ 26K motor rpm
Modified Round January 28th
172 - 6.480 - Green - Butch
164 - 6.530 - Yellow - Greg
163 - 6.649 - Green - Jeff
161 - 6.590 - Orange - Ross
161 - 6.641 - Green - Eric
161 - 6.699 - Blue - Sam
151 - 6.687 - Yellow - Steve
143 - 7.030 - Blue - Maxx
Thanks Butch!!! It was a great day!