At last, after a long period of excessive travel to places way colder than should really be legal, I am back in sunny SoCal and had the chance to set up an Open Day for the Pebbleheads.
We ran two IROC events, then took a break to run the North American Gp5 Proxy cars (report is in that thread) then we managed to squeeze in a race for personal inline cars.
The first IROC was with a new set of Monogram stockers provided by Barney. These ran pretty well, each one with a different tire compound that really challenged the drivers as there was a big adjustment from one car to the next apart from just the lane change.
Dennis came out on top (for a change), showing some of the old "home track advantage" early in the day, but it did not last long.
Laps:
Times:

Podium (not sure why I looked so frazzled, I was OK, really):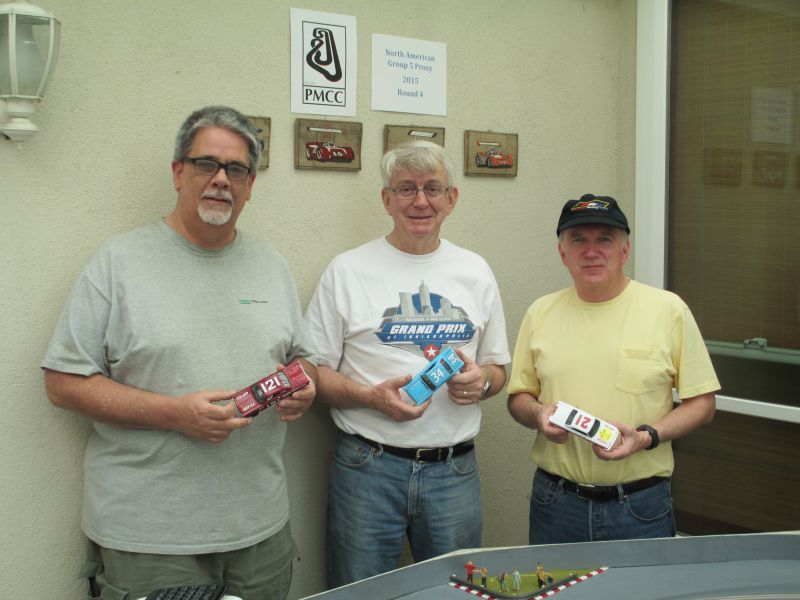 Then we broke out the set of ProSlot Ferraris that we have run before. These proved more chattery than any of us could remember, and the track seemed to get way better later in the run, perhaps as the rubber of the ProSlot tires picked up any urethane dust left from the Stockers.
Tim came in on top in this one:
Times:
Podium:
After the Proxy races we squeezed in an imline race. By now the track was well rubbered and the new lighting was in full use. Dennis forgot to add Phil to the entry so Dennis rode red lane and handed over to Phil for the other two. It was almost enough to beat Gary, but not quite, he ended up with about 3 sections lead.

Times:
No podium shot, but you guys know who you are!
Thanks for being here and making this a fun day.
Hopefully we will do it again soon.
Dennis