Stats update
Here is the processed version of the big board: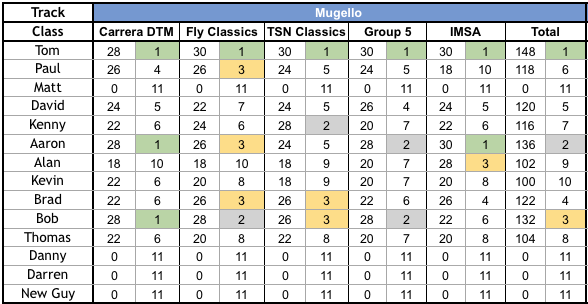 Paul's score was reduced from 120 to 118 due to an arithmetic error. The updated finishing order is:
1st: Tom (148)
2nd: Aaron (136)
3rd: Bob (132)
4th: Brad (122)
5th David (120)
6th: Paul (118)
7th: Ken (116)
8th: Thomas (104)
9th: Alan (102)
10th: Kevin (100)
Streak update:
All but Danny and Darren extended their consecutive race tallies.
Everyone attending extended their consecutive 100-point race tallies.
Only Tom, Aaron, and David extended their existing consecutive 120-point tallies.
Only Tom and David extended their consecutive top-5 finish tallies.
Tom and Aaron extended their consecutive podium tallies.
Tom extended his consecutive win tally.
Milestone update:
Tom reached 220 class podiums. Next stop, 230.
David reached 40 races.
The standings update is located here:
http://slotcarillustrated.com/portal...5&postcount=44
The IOE update is located here:
http://slotcarillustrated.com/portal...6&postcount=45