The track: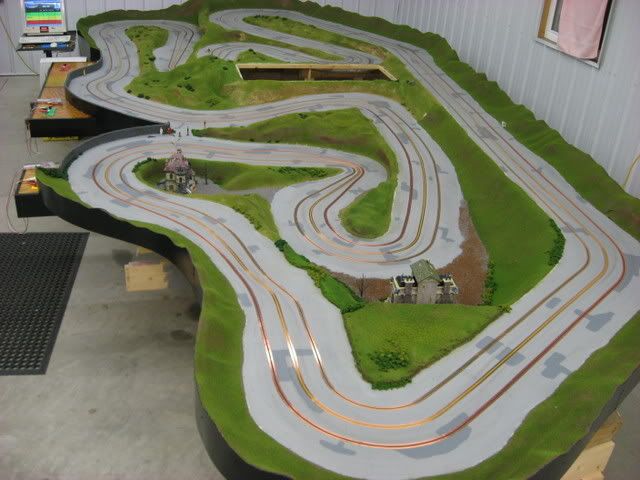 NOTES:
- Longest straight is 11'.
- Slot depth is 9/32"
- PPR's, S1's and S2's are the tire of choice to win here.
- Ortman tires suffered miserably here, two months ago, for the Shootout.
- Trakmate software for lap counting with sensor harness.
- All track calls will be done with a call button.
- Voltage is set at 10.0 volts.
- PM 2048 controller will be used for all cars.
- GT cars will be qualified first then Proto-type cars.
- Qualifying will determine starting order from slowest to fastest.
- All tires will be cleaned with 3M masking tape before each 4 minute heat.
- Fast laps are mid to low 10 second lap times
- Track record -
10.220, Slot.it Nissan Clarion SW 21.5k, 11/34, S2's, 78g
;
10.227, Slot.it Rothmans Porsche 956 SW 23k, 10/32, PPR's, 71g
.
The deadliest curve on the track. The curve on the left is very dangerous b/c from the drivers stations the curve doesn't look that tight. This curve has laid claim to many broken chassis's. New guys learn very quickly how to drive this curve. LOL!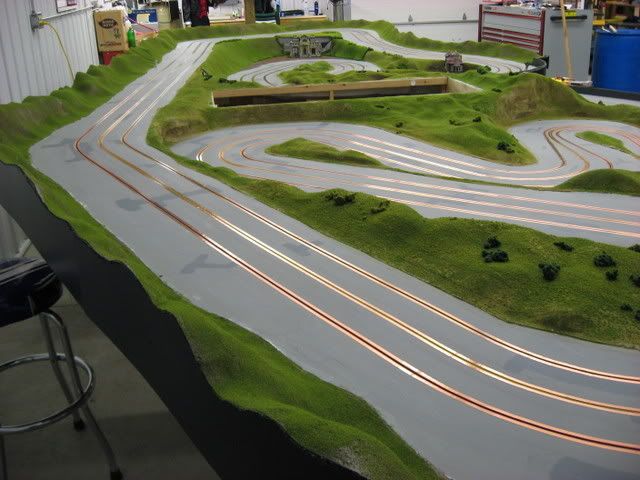 The curve in between the red and green drivers stations is the neatest curve to watch. Its hard to explain, but I will show video of racing action with one of my other cars through this curve. It will appear the car can't be going through that curve the way it does. Some cars can do it easily while others can't and deslot. I'm not going to push any GPR cars hard through this area. The safest way is to brake right before the curve, to avoid a major tail slide, and get back on the gas very quickly.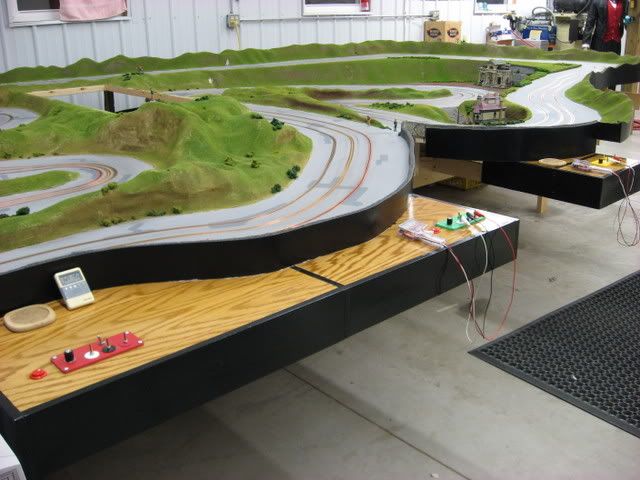 You like hills? The curve, in the upper left part of the picture, is an uphill drive then starts down hill right after the curve. Too much speed up the hill will cause deslots if the brakes are applied too late.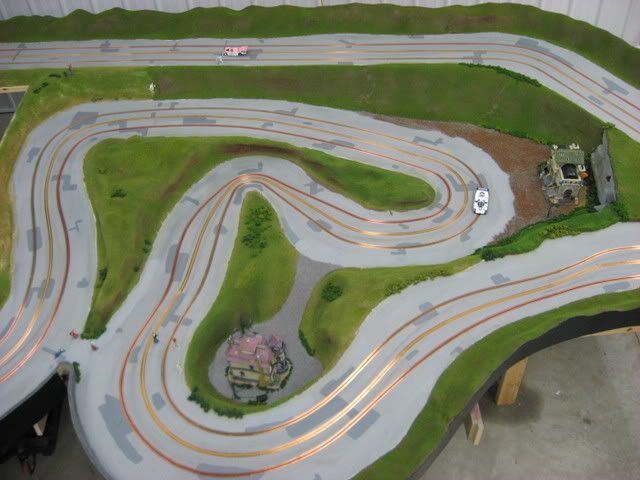 Lots of braking action through this end of the track. Most of the silicone tire cars race through this end like they have a guide pin in the rear.