Being a HO racer for the last 25+ years and having built a 4 lane HO track for club racing I've tried to avoid the 1/32 slot cars. The last thing I need is another slot car hobby. Last year I finally caved in and bought a car, a Slot iT Lancia just to have one. Then a friend of mine called me up a week later and said hey I got a track for 1/32 come over and race, I had a blast racing my car and some of his. That put me over the edge and I caught the bug.
Now I wanted a track, a friend gave me an old Monogram 1/32 plastic track that I setup just to run some cars around on. My wife said she wanted to buy me a good track set for my birthday but needed my input on it. Having lurked around this forum for a few years I've seen the trend of guys with plastic tracks after a few years selling or abandoning it to build a routered track. So I told my wife instead of buying a track set that I'd rather just put the money towards building one. After seeing the fantastic detailed tracks other members have built here I knew that was the direction I wanted to go. I drew up several designs that would fit my table size and decided to build it to AC2 specs after thoroughly checking out there web site, although to begin with it will be just run as two lane DC. It will be fully sceniced with a few limitations.
I used standard 8.5X11 printer paper to layout some designs before deciding on the final version. Much easier to visualize and tweak when its full size on the real table size. Note to self don't turn on the ceiling fan.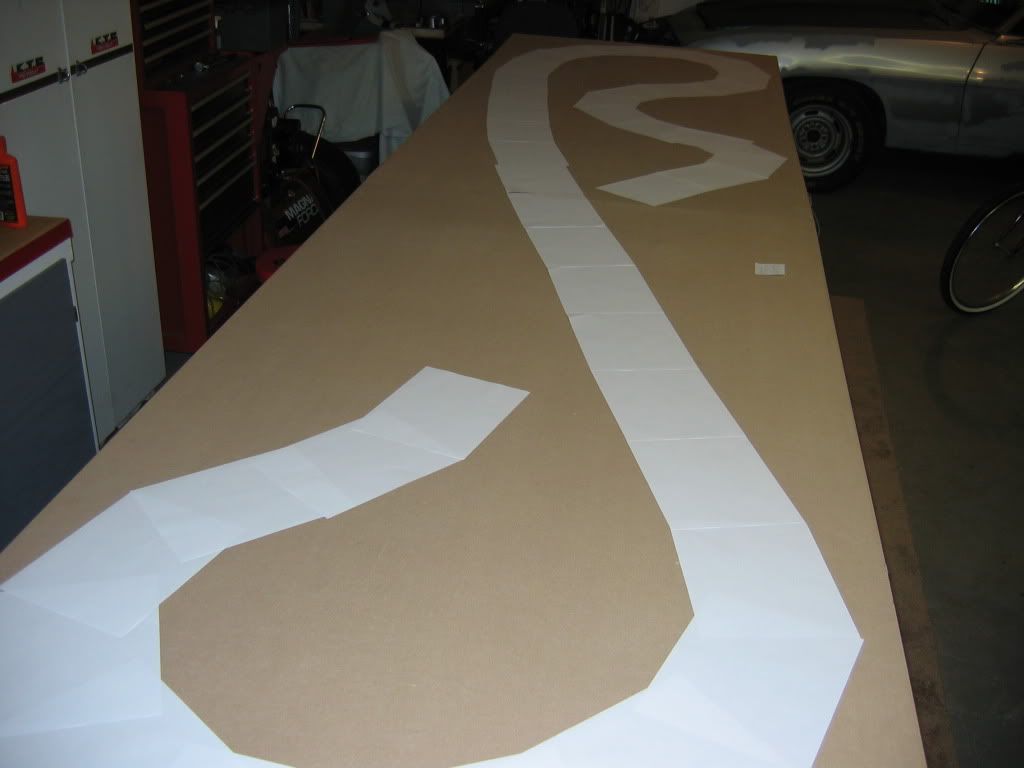 The HO track is in my 24X36 shop located in my backyard and is setup for club racing with fold out pit tables so another track shouldn't be a problem. Now even with a building that size my space for a track is limited due to other hobbies/ stuff that also share space in there. More specifically it has to occupy the same location as the HO track. The max size of track table I could fit there is 16X4 feet. My HO track is lightweight and modular so it can be taken apart to be stored on a wall when not needed. In order to be able to build the 1/32 track I had some of the same engineering criteria that had to be met. First one being like the HO track this had to be able to be moved out of the way, that alone set all the rest of critera to solve. The only space left was to lift it to the ceiling so the table had to be lightweight, rigid,and strong enough to be lifted at four points. My goal is for the total weight with out the legs attached for lifting when all done to be under 300lbs and closer to 250lbs
After thinking of different ways to accomplish my goals for the table I decided on using lightweight steel/ tin studs for the frame. Then boxing it in like a wall would be. But by laying horizontally, I had to eliminate as much as I could any twisting flex.
I had planned on tack welding all connection points but with my mig welder all I could do was blow holes in the thin metal.
After building the frame this way even if wasn't building this to be lightweight I will build any future table frames the same way. It was very fast and easy with a tin snips, bend and screw together with sheet metal screws. All frame, top and botom wood seams are staggerd. This makes a very sturdy table.
The top surface is 3/8 " OSB board, I needed something that screws would hold into and it was lighter then plywood. It is screwed and glued with construction adhesive to the frame. There are some 2X4 wood pieces added into the frame were the lift points will be at. Along with some 1X4 wood where the legs bolt to the cross members.
To give it rigidity and strength the bottom is covered with ¼" luan plywood screwed to the frame but removable to access the wring. I painted it white to match the ceiling better to reflect light so a dark cloud wasn't hanging there. The cut outs are for the legs to be bolted in, same ones I use for the HO track.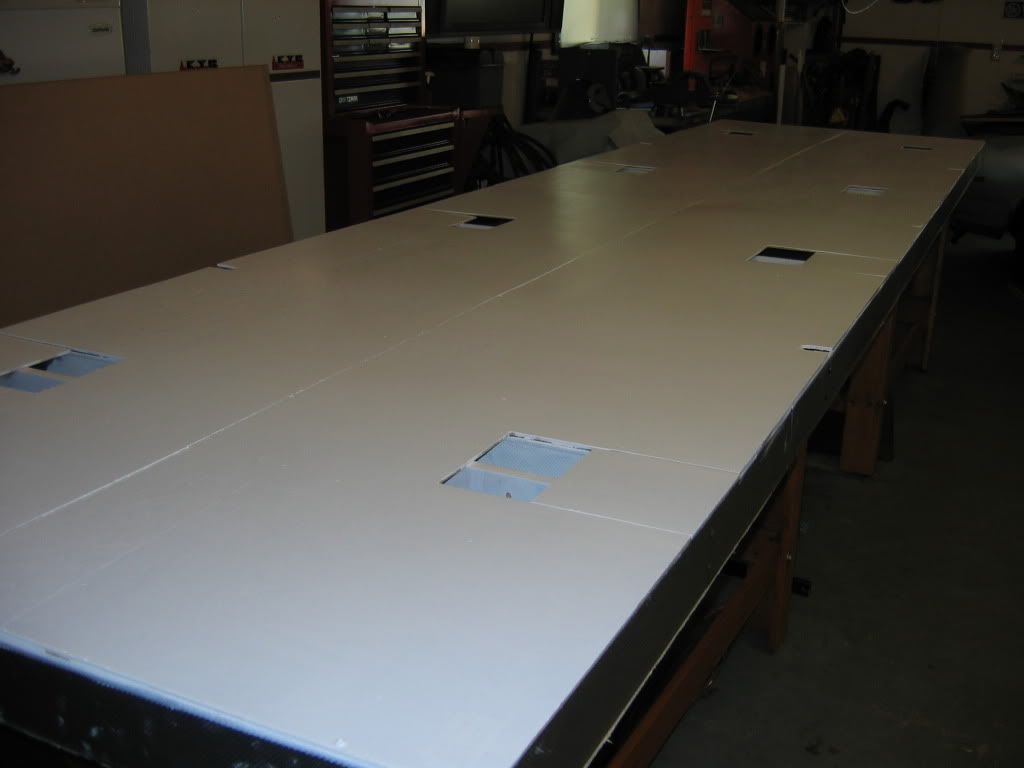 At this point in the build the completed table weighs about 120lbs.
**I need to confess that this actually started last summer and I'm finally getting around to documenting it**