Coyote Gulch
2 lane painted Carrera
65' equal lanes
MG Pro power supply run at 12 volts
Prof. Motor controllers, alligator hook-up
Trackmate timing
Stoney Brook Raceway Park
2 lane painted Carrera 72.5', copper taped
Loco DS400 power supply, run at 12 volts
SRM timing
Prof. Motor adjustable controllers, alligator hook up
We have more tracks available but I need to get better pics of them. We run anywhere from 50s F1 to modern LMP and everything in between. Between the 2 clubs I'm in, we race all year except Christmas time.
Castle Pines International
2 lane painted Carrera, 85'
MG Pro power supply, run at 12 volts
Prof. Motor adjustable controllers
Trackmate timing
The track has changed slightly since this pic was taken--the far end has been raised and slightly banked. Fun track.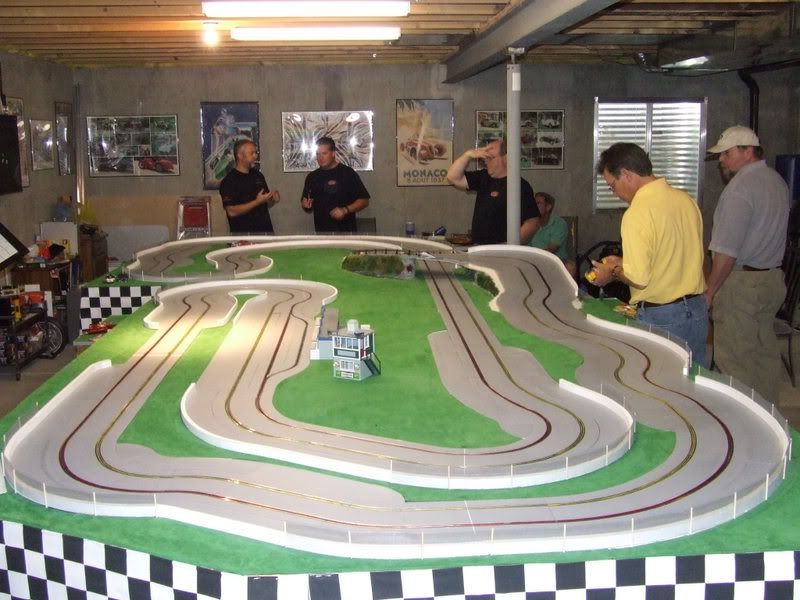 We have a couple of tracks under construction and then there's DWalkers 100' routed 4 lane but I can't find a good picture of it to post. It was one of the Colorado RAA and Slot.it Shootout tracks along with Stoney Brook Raceway. Eventually, my track and maybe Castle Pines will go routed. I'll keep you updated.
Tom